Memorial barrel race to be held at old rodeo grounds
Posted on January 22, 2020 by Taber Times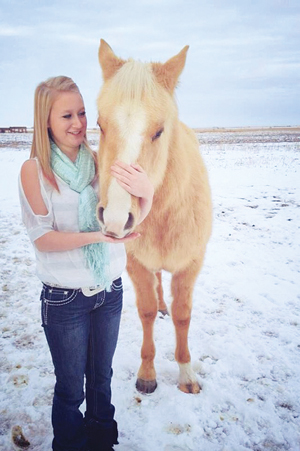 TIMES FILE PHOTO
By Trevor Busch
Taber Times
tbusch@tabertimes.com
There will be a change of venue for a 2020 barrel racing event honouring the memory of Montana Halvorson.
Montana's mother, Tara Halvorson, submitted a special event application to the Town of Taber on Dec. 3, 2019 to host a memorial barrel race at the old pro rodeo grounds west of Highway 864. There is no longer a lease in place for the grounds and it is currently vacant following the town's termination of the Taber Pro Rodeo Association's lease in November 2018.
Just prior to her 21st birthday, Montana Halvorson lost her life in 2018 to a tragic riding accident. In April 2019, the Taber Agri-Plex hosted the inaugural Run for Montana.
According to Halvorson's application, this year's event will take place July 10-12, 2020, with set up on July 8-9 and clean up on July 12-13. Between 150-250 participants are expected, and around 200 spectators.
"Now that the pro rodeo has cleaned up all of their stuff — the application is to put it on the pro rodeo grounds — so are they going to use what's existing there? Or is there something else that we have to provide?" asked Coun. Louie Tams at town council's Jan. 13 meeting.
"They are asking that we provide the bleachers, I believe a few barricades and some garbage cans, but nothing more than that," replied town ACE co-ordinator Emily Hembrough. "They're bringing in their own porta-potties, sound systems, and things like that."
Administration's recommended daily fee of $207.25 is the current fee for rental of a soccer pitch.
"Administration does not have a set fee for rental of the rodeo grounds, and the grounds aren't a typical rental," stated administration in their background to the decision. "Administration had a discussion with the recreation board chair (Danielle Hansen) to see if there should be a special recreation board meeting to discuss this application, and it was decided that this application could go directly to council without a recommendation from the recreation board."
Council was advised that administration will add a new fee to the fee bylaw for future rental of green spaces that are not regularly maintained for use, and bring the amended bylaw back to council for approval at a future meeting.
"This is a great way to show support to our community members and a great way to utilize otherwise unused town land," stated administration as justification for the recommendation.
Coun. Jack Brewin was concerned about potential liabilities for the town should a participant or spectator be injured on the grounds of the event.
"I think it's really good that we can use the grounds out there for something, I think this is a good thing. I guess some concerns about insurance and liabilities if someone's hurt on the horse, is the town covered? That's one of my concerns is our liability."
Hembrough reported Halvorson's event would be required to secure their own liability insurance.
"I didn't look at the liability yet for what ours would cover. They would have to get their own liability insurance, but I can definitely ask if she's done that, or if she plans on doing that."
"I think that would have to be one of the conditions," replied Brewin.
Following discussion, council voted unanimously to approve the special event application from Tara Halvorson for a memorial barrel race at the old rodeo grounds at a rental fee of $207.25 per day, with a requirement for liability insurance being met.