Fourth quarter powers Celtics to title
Posted on January 22, 2020 by Taber Times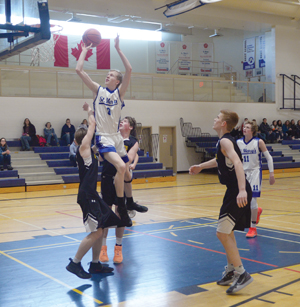 TIMES FILE PHOTO
By Greg Price
Taber Times
gprice@tabertimes.com
St. Mary's Celtics boys basketball team brought its 'A' game to the championship final of its home tournament against Willow Creek on Saturday in a 68-62 victory.
Looking like the team to beat on the other side of the draw, head coach Ken Gabruck noted nothing was certain for the majority of the see-saw battle.
"It was a closely-contested game. No one was up by more than three points until half way through the fourth quarter," said Gabruck. "For the first three quarters, we tried to pack the paint defensively to try and stop their big skilled player."
Inversely, Willow Creek put pressure on the perimeter on the Celtics to stop its outside shooting and funnel things inside into their big defender. Nevertheless, the strategy backfired where the Celtics were able to go off for 25 points in the final frame.
"The game kind of opened up for some reason. The game got a little wide open and the combination of Carter Hendricks from three-point land and Seth Muller on the inside were key factors," said Gabruck, adding Carter DeBoer was solid defensively on Willow Creek's top player. "We also got some key baskets from Beau Huseby and David Klassen to take an eight-point lead with three minutes left and we were able to hold on."
Hendricks had 23 points in the victory and Muller and DeBoer both had 13 points apiece.
The Celtics advanced to the championship final with relative ease, first beating Noble Central 89-40.
"They are a team in rebuild mode and they were hard pressed throughout the tournament," said Gabruck. "We had six players scoring double digits that particular game."
Sebit Gatluak and DeBoer both had 16 points apiece in the win. Huseby added 14 points.
The Celtics would earn a berth into the championship final after a 103-45 win over Winston Churchill Griffins JVs.
"They are a skilled, well-coached team, but having a lot of Grade 10s and a few Grade 11s, they lacked experience and our rebounding size was the difference there," said Gabruck.
Five players were in double-digit scoring for the Celtics, including Hendricks with 20 points. Muller had 18 points and Peter Klassen added 15 points.
With students taking exams this week, the Celtics will participate in a JV tournament this weekend in Coaldale at Kate Andrews to give younger players some extra court time.
"Some of our younger players are gaining more confidence in Sebit, David Klassen and Brendon Appleton. They don't get a lot of time in, in tight ball games, but in the JV tournament, it will help with their confidence a lot," said Gabruck.
The Celtics return to River Ridge Basketball League play on Jan. 28 against Bow Island at home. The Celtics play at 6 p.m. before the St. Mary Auroras girls game that day which will follow at 7:45 p.m. The Celtics are then off to a tournament at Black Diamond on the Jan. 31 weekend.
"We did some really nice things in our championship final, but there are also some things we still need to work on," said Gabruck. "I'm still not happy with our offensive play overall yet. It's not smooth, but it is getting more consistent with our starting five. But, there are still some areas we need to work on."