Auroras take silver
Posted on January 22, 2020 by Taber Times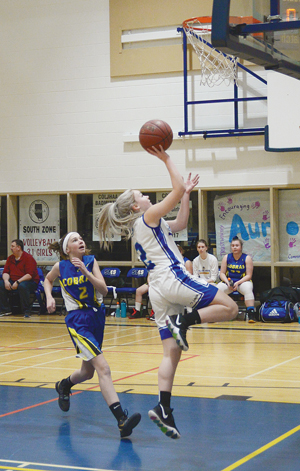 NOTHING BUT NET: Nicole Woloniuk sinks a layup during the St. Mary Auroras' Invitational Tournament on Jan. 10. TIMES PHOTO BY TREVOR BUSCH
By Greg Price
Taber Times
gprice@tabertimes.com
St. Mary Auroras are off from competitive basketball for a bit, but not before finding a silver lining at its invitational basketball tournament earlier this month.
The Auroras would end up making the championship final of its home tournament on Jan. 11 before falling to St. Michael's from Pincher Creek by five points in a close 65-60 final.
"It was a close game where we actually came out quite flat in the first quarter. We were down 20-9 at one point, but clawed back," said Rose Ginther, head coach of the St. Mary Auroras girls basketball team. "We eventually tied it up at 44 and were actually up a couple of points in a strong second half. It was a story of little things. Our defence could have tightened up a little in the middle. They had a tall post player that was the difference for them. We couldn't shut her down in the middle. The stuff we are really going to work on this week is our defence and see about making a difference that way in working on our defence and boxing out, as I think we score just fine."
Nicole Wolaniuk had 23 points for the Auroras and Jayda Kooiker added 16.
Jaiden Cranston grabbed nine rebounds.
The Auroras opened its tournament run with a lopsided 73-31 victory over Willow Creek.
"We came out firing on all cylinders. We got our whole bench in the game, every game actually. We have a deep bench in that there's never been an issue in looking down the bench and finding a player to contribute," said Ginther. "The tougher thing about playing a bit of a weaker team is continuing to do your systems. We had the fast break going and in the second half I told the girls we should try and use this as a learning opportunity — we aren't going to press and we aren't going to do the fast break. But, at the same time, you don't want them not playing their game. There's the worry they're going to be a little more lax."
Wolaniuk poured in 16 points and Kooiker chipped in 15 points. Britney Medina also scored double-digit points with 10. Ally Ginther and Janae Dyck had seven rebounds apiece.
The Auroras semifinal game featured a 60-53 win over Matthew Halton to push them to the championship game.
"Matthew Halton is strong and scrappy. We definitely had to play a good game to beat them. That was maybe one of the reasons why we came out a little flat in the final in the first quarter, because we had to regroup," said Ginther. "They have a very good post player and we had to stay on top of our game to shut her down. They are very physical and they can run the ball too."
Wolaniuk had a team-high 18 points and Hallie Horvath had 10 points. Kooiker added nine points. Kourtney Bos had a monster game on the glass, hauling in 17 rebounds.
With Willow Creek and Matthew Halton both being fellow 2A schools, Ginther added it was nice to see opponents they may encounter again when zones roll around at Lethbridge College in March.
"We learned lots and we learned we can't sit back and take any team for granted in anything," said Ginther. "Being able to put up good games against 2A teams, we see the opportunity that we have at 2A zones. The rankings (came) out on Monday and it will be interesting to see how everyone sits."