Comeback keys Rebels title
Posted on January 15, 2020 by Taber Times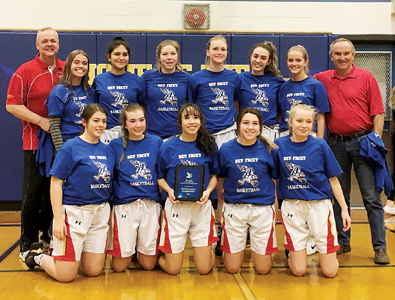 TOP TEAM: It was a team effort that brought home the Bev Facey championship for the W.R. Myers Rebels varsity girls basketball team this past weekend. TIMES PHOTO SUBMITTED BY KENNEY WOOD
By Greg Price
Taber Times
gprice@tabertimes.com
W.R. Myers Rebels varsity girls basketball team earned the tournament title in Sherwood Park this past weekend, thanks to a furious fourth-quarter comeback at Bev Facey against Hunting Hills in a 58-53 victory.
"We held them to five points in the fourth quarter with some outstanding defence," said Kenney Wood, head coach of the W.R. Myers Rebels varsity girls basketball team, adding a bank-shot three pointer and two free throws late were the difference.
The Rebels trailed by nine points at half and seven points in the third quarter, before outscoring its opposition 17-5 in the fourth quarter.
Anika Steed had the double-double with 13 points and 11 rebounds. Abby Wood and Halle Johnson had 12 points apiece.
The Rebels started its tournament run with a 58-48 victory over Lindsay Thurber thanks to a 19-9 first quarter with the Rebels racing out of the gate.
Steed (14 points-10 rebounds) and Wood (13 points-10 rebounds) both had double-doubles to earn the win in net.
The Rebels also saw themselves having to battle back from a half-time deficit against Ardossan in its semifinal, but thanks to a huge 27-3 third quarter, earned the 59-38 victory.
Steed poured in 19 points to go with 15 rebounds. Wood notched 11 points to go with 12 rebounds. Johnson added 11 points. Hayley Jones hauled in 12 rebounds.
Earlier in the week, the Rebels suffered a 79-43 loss to Magrath Pandas in Southern Alberta High School Girls Basketball League play last Wednesday.
"We played a very strong first quarter, but we just couldn't keep up with the scoring. We only had one player in double digits," said Wood.
W.R. Myers Rebels varsity girls basketball team is on the road Friday against Catholic Central Cougars.