Peewee Suns heating up SCAHL play
Posted on January 8, 2020 by Taber Times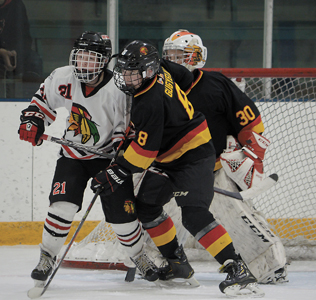 KILL BILL: Jager Gugyelka of the Taber peewee "AA" Golden Suns tries to clear the front of the net on the penalty kill to try and give goaltender Brylin Noble a better sight line. TIMES PHOTO BY GREG PRICE
By Greg Price
Taber Times
gprice@tabertimes.com
As the Taber peewee "AA" Golden Suns reflect on 2019, it showed plenty of sunny times for the team in South Central Alberta Hockey League play.
Heading into this past weekend's games to start 2020, the team was 17-3-0, with a six point lead over Wheatland Braves for tops in the South Division, although the Braves did have three games in hand.
"Part of our success is we are a fairly deep team. We have some fairly high-end guys both at forward and defence. But, as you get down the roster, it doesn't drop off too badly," said Kevin Serfas, head coach of the Taber peewee "AA" Golden Suns, which saw 11 different players record double-digit scoring over 20 SCAHL games in 2020. "The guys have really bought into their jobs and the expectations in what we want them to do. It's a really neat group where we are getting scoring from all over the place. It is much more even scoring throughout the roster than we had last year, both on the front end and the back end we are a three-line team. We also got some really strong goaltending which has helped."
The peewee Golden Suns featured three players who hovered around the two-point per game scoring benchmark for 2019 SCAHL games, including Colby Gulliver (18 goals and 25 assists), Kayden Yeaman (15 goals and 26 assists) and sniper Cage Smith (25 goals and 13 assists). Seven different Suns players enjoyed double-digit helpers.
Serfas noted as 2019 came to an end, the Taber peewee Golden Suns had the second-lowest goals against average in the league thanks to netminders Brylin Noble (10-1-0, .920 save percentage and 1.94 GAA) and Cason Van Hal (7-2-0, .860 save percentage and 2.67 GAA), to go with solid defence in front of them clearing out pucks from the crease and keeping high-quality chances to a minimum.
"We have one returning goalie who has really taken the experience they had last year and put it to good use this year. Our other goalie is a second-year kid too, but has never played at this level. He has come a really long way since the start of the season in building some confidence," said Serfas. "We are a team who can score goals, but also does a good job keeping the puck out of the net. We have four returning defencemen that played on the team last year which really, really helps."
Helping keep that puck out of the net has been a more disciplined style of play that has seen the Taber peewee Golden Suns play a man down as more of a rarity compared to other teams.
"It is something we continue to harp on with the kids is to be a tougher team to play against. That doesn't necessarily mean rough or dirty, we want to be tougher to play against winning those puck battles and not giving up on pucks," said Serfas. "We are the lowest penalized team in all of SCAHL, both north and south (divisions). It's something that when I came on coaching the program last year, was a big thing for me, was to stay disciplined and out of the penalty box."
Including tournament and exhibition play, the Taber Golden Suns had played 33 games in 2019 and came out with a 26-5-1-1 record.
Tournament play included a second-place finish in Cochrane that saw the Suns lose in overtime to the Bow Valley Timberwolves in the championship final. The Timberwolves just happen to have found themselves at the top of the North Division at the end of 2019 with a 16-2 record, showing exactly how close both divisions will be come playoff time. Another tournament the Golden Suns won easily in Calgary.
"In the (Cochrane) tournament we beat Olds Grizzlys (12-5-1) two times and in my mind Olds is a very strong team who will push Bow Valley really hard in my opinion," said Serfas. "And we have five players who have made the Winter Games team for Hockey Alberta that is coming up in Airdrie in February which is pretty exciting. Lethbridge has two "AA" teams and they only put three kids on the Games roster and that's a much larger centre to draw players from. It goes to show that the program is a very viable program and we are putting skilled kids through."
While the Taber peewee "AA" Golden Suns have been able to stay out of the sin bin for the most as it turned the calendar on 2019, Serfas hopes to see marked improvement on the team's power play as they play on in 2020. The team potted 114 goals in its 20 SCAHL games in 2019, with only 19 of them (17 per cent) of them coming on the man advantage, despite ample opportunity to put more goals on the board via the man advantage.
"The power play has struggled in the first part of the season. In December, it got a little bit better and we will continue to work on that," said Serfas. "Especially when you come up against the tougher teams, it is one of those things that might make the difference is your play in special teams. When the other team screws up, you have to make sure they pay for it. That will be a big key in the New Year."
Another focus for 2020 will be making sure the pedal is to the metal for the peewee Suns for a full 60 minutes of hockey.
"We have to make sure we are ready to play hockey games. A lot of times we will sort of tumble our way through the first period of hockey games. It's having that killer instinct and grabbing a team early on and do away with them early. We sort of play around with them which is a bit of a bad habit we have got into," said Serfas. "It will be something we continue to preach."