Auroras looking to shine in upcoming tourney
Posted on January 8, 2020 by Taber Times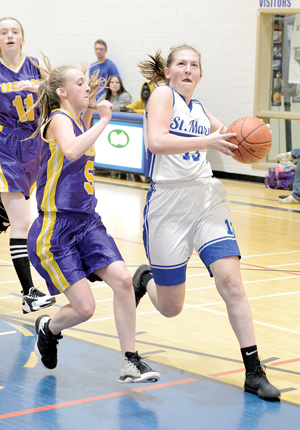 TOURNEY TIME: Kourtney Bos and the rest of her St. Mary Auroras teammates hope to fast break to a good showing at its home tournament this weekend. TIMES PHOTO BY GREG PRICE
By Greg Price
Taber Times
gprice@tabertimes.com
Coming off the heels of a River Ridge game against Vauxhall on the road on Tuesday, the St. Mary Auroras girls basketball team hope to awake from a Christmas break slumber with a solid showing at its home tournament.
"We have been able to practice a few times (last) week. We had a bit of a break between our last league game against Bow Island before Christmas and the week of Christmas to give some people a little bit of rest," said Rose Ginther, head coach of the St. Mary Auroras girls basketball team. "We had some injuries and a couple of concussions and that sort of thing. But, everyone seems to be back at 100 per cent now. We are hoping to do well in our tournament."
The Auroras Basketball Invitational will feature an eight-team field, with play beginning on Friday with a 2:30 p.m. game where Vauxhall will square off against Picture Butte JV.
Games continue on Friday at 4:15 p.m. and the Auroras battling Willow Creek in its opening game at 6 p.m. Friday play concludes with a 7:45 p.m. game with Mathew Halton against Three Hills.
"Our side of the draw, Mathew Halton is always tough. Three Hills has come down to our tournament the last few years, but not sure what they'll look like this year," said Ginther. "I think it will be Vauxhall and St. Mike's that will be there at the end of the other draw. We beat St. Mike's last year in our tournament. I'm looking forward to how we will do in our tournament."
Given the extended time off from the holiday break for students from live hardcourt action, Ginther noted schemes will be pared down a bit until the girls get back into game flow and a regular regiment.
"This week we have been working on our conditioning again and lots of shooting. Right before the Christmas break we sat down with the girls and set some personal goals for each of the girls," said Ginther. "Overwhelmingly they wanted to work on their shooting percentages. Lots of shooting this week where we also worked on defence."
If the Auroras win its 6 p.m. Friday game, they will play on 1:15 p.m on Saturday. The championship game goes at 8:15 p.m. on Saturday, with a third-place game at 6:30 p.m.
"The first tournament we went to in Calgary, it was definitely a good team-bonding experience and a tournament like this is always a good avenue to create team chemistry and get back into the swing of things. It's important for us to win our home tournament, but it's good to get the kids back into things and set the stage for the rest of the season with good habits," said Ginther. "January is quite quiet for us on the tournament front, so looking at this tournament coming up and learning and working on some stuff to get