Year in Review 2019
Posted on January 1, 2020 by Taber Times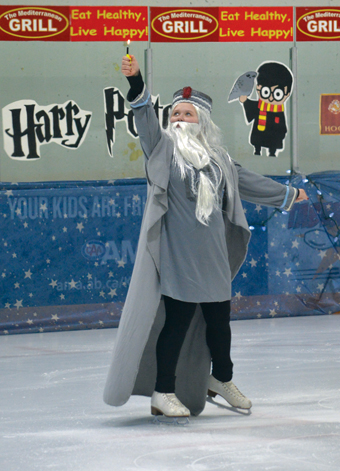 REACH FOR THE TOP: The Times reviews all the sports that was sports for the region in 2019, including the Taber Carnival. TIMES FILE PHOTO
There were plenty of movers and shakers in the Taber-area sports world for 2019, as many made top local, provincial, national, and even international news.
JANUARY: In a triple-digit bashing of Winston Churchill High School on Dec. 19, the W.R. Myers Rebels senior varsity girls basketball team celebrated a dominant win 101-24.
"With WCHS not having a varsity team last year, their varsity team this year is quite inexperienced," said coach Kenney Wood.
Taber midget CAHL Oil Kings were tournament champions at its hockey run in Olds.
The Oil Kings were victorious in its final game against Airdrie 8-2.
Byron Kress led the way with two goals and an assist. Spencer Phillips, Dawson Hendricks, Shea Hathaway, Cole McLelland, Joseph Fabbri and Peyton Poncelet each had singles.
There was plenty of buzz going around the Taber Fish and Game Association's Annual Measuring Day at the Taber Community Centre Auditorium.
Plenty of record-book worthy submissions were the talk of organizers, including that of an elk bagged by Steph Roberts, her third in her hunting career, with the most recent being the most impressive. Roberts waited 12 years to get a tag to shoot the elk in question.
St. Mary's Auroras girls basketball team ran the table on the way to a championship at its invitational tournament.
The Auroras were able to upend St. Mike's from Pincher Creek in the game championship game, 72-57 on Saturday.
Kourtney Bos poured in 21 points and Nicole Wolaniuk added 17. Emily Ginther chipped in eight points.
W.R. Myers Rebels varsity girls basketball team earned a third-place finish at a tournament at Bev Facey High School in Sherwood Park over the weekend.
The Rebels finished its tournament run with a tight 63-61 victory over Spruce Grove.
St. Mary's Celtics boys basketball team took a second-place finish at its invitational Double Blue Tournament.
Turnovers were the difference, as the Celtics fell 83-60 to Claresholm in the championship final.
Taber atom CAHL Oil Kings earned a 3-1 record and earned a silver medal on the way to a second-place finish at a tournament in Medicine Hat.
The stakes have never been higher for Taberite Kaleb Muller at the upcoming Canada Winter Games.
Taber novice 'A' Oil Kings team made it all the way to the final of the Shawn Anderson Memorial Tournament, earning the silver medal, after a tight 5-4 loss to Irvine Bulldogs in the championship.
The Oil Kings held a 4-3 lead heading into the third period, before the Bulldogs scored two unanswered goals, including the game winner with 3:51 left in the contest.
Ethan Volk tallied twice for the Oil Kings and Jenner Workman and Lincoln Wiebe had singles. Delphin Deboer and Wiebe had two assists apiece.
The charity cake auction/basketball game extravaganza continues to be a big hit for Barnwell in the money it is able to raise for the school.
Last month's auction (Jan. 31) was able to raise over $11,000 thanks to the creative flair of community members in its many unique cakes that were auctioned off for those with a sweet tooth.
FEBRUARY: W.R. Myers Rebels varsity basketball teams ran the table in their respective divisions on the way to a tournament title at the Rebel Classic.
The boys team won their championship with a dominating victory over Bert Church Chargers, while the girls team vanquished Wetaskiwin.
Taber Shooting Foundation's Youth Group is making further inroads into interest in the sport, and having an Olympian come visit certainly will not hurt the exposure.
Lynda Kiejko will be a guest speaker at both Taber Christian School and St. Mary School in the early afternoon, before driving out to the Taber Shooting Foundation's outdoor shooting range to take a look at the facilities.
It was an episode of Golden Girls at the South Zone high school curling playdowns at the Lethbridge Curling Club for a W.R. Myers rink.
The rink of Alanna Makarchuk (skip), Jordyn Clarke (third), Jessi Young (second) and Ashleigh Little (lead) earned the gold medal with a thrilling 6-5 victory over Vulcan County in a match that had plenty of intrigue and good shots.
Brent Anderson will be using his defeat at Golden Gloves earlier this month in Calgary as motivation to keep the fires burning for when he enters the ring again at provincials next month.
Anderson has built up quite the rivalry with Emile Smith, where this latest Golden Gloves has marked the third time the fighters have squared off against each other, with Anderson winning the two previous match ups.
Unfortunately, this time around, Anderson suffered a split decision loss to Smith, fighting at 165 pounds.
The Canada Winter Games in Red Deer have come and gone for Taber/Cranford's long-track speedskater Kaleb Muller, and with it has come many cherished memories — and medals.
The long-track speedskater was able to garner four medals, two golds and two silver in his various pursuits.
Muller's performance in the 5,000-metre event not only got him a gold medal, but also his name in the record books. The time of 6:52.95 set by Mueller shattered the previous Canada Games mark.
While attending a "Coffee with Council" engagement, town council members received a couple of requests for additions to recreation facilities. The first request was for a tot table to be added to the Taber Spray Park, which would allow younger children a space designed more for them. The second was for the addition of a swing for an adult and child to share. This would allow for a caregiver to share in the experience with the child and be more engaged.
Taber midget Oil Kings rallied to advance to the third round of provincial playdowns by winning the point series against Picture Butte Blades with a 9-5 victory over Picture Butte in its home-and-home series.
Peyton Poncelet had a hat trick and Cole McLelland tallied twice.
Nolan Tams, Jack Murphy, Dawson Hendricks and Joseph Fabbri had singles.
W.R. Myers Rebels varsity girls basketball team was beaming with confidence as the team continued to prepare for 3A South Zone competition.
The Rebels got some much-needed momentum by taking the tournament title in Wetaskiwin in a very deep field.
While there were hesitations at first, the Trout Pond area has now been opened to the public year round.
Recreation board chairman Danielle Hansen had noticed plenty of foot traffic around the area despite earlier attempts by the town to close off the area parking lot due to liability concerns and also lack of snow clearing, making the area tough for residents to navigate.
Taber peewee "AA" Golden Suns (22-8-2) earned a dominating 8-2 victory over Medicine Hat Hounds (28-3-2) on Sunday on the road, a team which sat in first place atop the SCAHL South Division standings.
Kade Duell dominated the scoresheet with five goals, and Colby Gulliver, Brady Magarrell and Noah Smith had singles. Aidyn Law registered four assists.
MARCH: The bond between Stephen Cline and his horse Nikki looks to be as strong as ever.
Cline hit the road for a 2,700-kilometre drive with Nikki to Fort Worth, Texas, to compete in the National Reined Cow Horse Association's Celebration of Champions where the duo earned the title of Reserve World Champion and National Champion for cutting in the Novice Non-Pro Bridle category.
This past competitive season, Cline was quite active, participating in 22 shows across Canada and the northern portion of the United States.
A young and hungry Taber peewee "AA" Golden Suns team is set to host playoffs this week, to put a punctuation point on what can already be considered a very successful season given early expectations.
The Golden Suns will go into playoffs as the number-two seed in the South Division who showed exactly how far they can go with an impressive 8-2 victory over top-seed Medicine Hat Hounds a couple of weeks ago, one of only three defeats the team suffered in its 33-game regular season (28-3-2).
Barnwell Trojans basketball teams had a truly banner moment, as both the Tier I boys and girls teams captured zone championships.
When it comes to the Taber novice Oil Kings winning its Tier II Central Alberta Hockey League championship banner, they definitely did not take the road less traveled.
It is estimated, the dedicated group of players, coaches and parents travelled approximately 4,200 kilometres on a season that saw it go 14-0-1 in its regular season, and earned a bye in the first round of playoffs.
W.R. Myers Rebels varsity girls basketball team was able to withstand a McCoy Colts second-half uprising on its way to the 3A South Zone banner at Barnwell School on Saturday, in a 88-79 victory when the dust settled.
The Rebels built a 19-point lead at half-time, then saw its lead evaporate as the Colts galloped to a furious third-quarter comeback where fans in the packed bleachers were on pins and needles in the fourth quarter.
While it certainly wasn't baseball weather outside, the Vauxhall Community Hall was decked out in all things baseball for this year's Vauxhall Academy of Baseball Awards and Fundraising banquet.
Past banquets have featured a plethora of different Toronto Blue Jay-related personalities, and this year was no different as the featured speaker for the event was former Blue Jay first base/outfield coach, Tim Leiper.
With how the script was being written for the Taber atom Oil Kings in Central Alberta Hockey League play, you just knew this is how the Atom 'C' provincial final would work itself out.
Both provincial finalists emerged from the same pool as the Oil Kings defeated host and familiar face Duchess Storm 6-4, as the Oil Kings were able to withstand a late Storm rally that saw Duchess score all its goals in the third.
New inroads are being made into curling, and the latest offering will be front and centre at the Taber Curling Club with the first ever Sturling Bonspiel which features a unique format from your regular curling. Two-person stick curling has been introduced to curling rinks across North America, including the Taber Curling Club this season.
The basketball season is in the books for high school competition, but the afterglow of recognition still remains in River Ridge Basketball League play as all-star selections were made.
For the St. Mary's Celtics boys basketball team, Carl Rodrigo and Tyrell Martens were given all-star nods.
Shorthanded two starters for a portion of its run due to suspension stemming from the aftermath of a physical and heated zone final against the McCoy Colts, the W.R. Myers Rebels still managed to battle on the way to a silver-medal finish at 3A provincials in Athabasca.
It was an experience of a lifetime for Senior Constable Mathieu Champagne, as the longtime Taber police officer recently returned from Abu Dhabi.
Champagne was selected as one of two police officers from Alberta, and one of seven from all of Canada who participated in the Special Olympics Law Enforcement Torch Run.
A harsh and cold winter stretch has been replaced by the warmer embrace of spring where the Taber Golf Club is on track to be open for golfers in late March.
As per usual, it will just be the front nine that is open as maintenance crews whip the full course back into shape after a long winter's slumber.
Doubles team Karen Malsbury and Blair Lowry posed with their provincial banner at the Taber Bowling Centre. The duo was back in Taber after a March provincials win in Calgary where the pair took home the 2019 Bowl Alberta South Provincial Champions title.
The dynamic duo of Kade Duell (46 goals, 53 assists) and Aidyn Law (35 goals, 47 assists) helped headline overall scorers in the league during the regular season in which the SCAHL took notice.
Duell's 99 points in 32 regular-season games had him at the top of the heap for SCAHL scoring, giving him the Top Scorer and Most Valuable Forward in the SCAHL peewee division. For team awards, he was also given MVP. Law finished in the top-five in scoring during the regular season, and did that with leadership and demeanor qualities that earned him Most Sportsmanlike for peewee SCAHL.
APRIL: Two individuals who have left a huge impact on their respective fields made their way to the Taber and District Hall of Fame.
Brandi Merritt-Miyanaga will be going into the hall for her dominance in Taekwon-Do and Del Cleland will be going in as a coach/builder for his decades of influence on the southern Alberta athletics scene.
Spring is in the air and with it comes the start of another season for W.R. Myers Rebels girls rugby.
"We are running the JV and varsity team together (for practice) because of low numbers," said Adam Hughes, who will be coaching alongside head coach Shayla Anderson for the varsity program.
For the last five years the Rebels program has proven a powerhouse under the former tutelage of past head coach Chris Komery, including three straight years of Tier III provincial banners from 2016-2018. W.R. Myers Rebels girls rugby team got its regular season started off on the right foot with victories against Chinook Coyotes on the road last week.
The varsity Rebels earned a 24-15 victory thanks to a strong first half, with scoring tries from Alex Haller, Halle Johnson and Emily Hoyt. Hoyt also converted two of three tries.
A Taber youth curler had a dream come true when he was one of the winners of an ATB Future Star contest for the 2019 Pioneer Hi-Bred World Men's Curling Championship which concluded in Lethbridge.
The Taber Fading Sons have continued their tradition of donating tournament funds to local organizations.
With over $15,000 raised this hockey season, the money was split between the Logan Boulet Fund of KidSport Lethbridge & Taber and the Taber and District Hospital Foundation with each getting $7,750.
The Sixth Annual Paul and Bernice Giroux 'We Have Not Forgotten' Memorial Golf Tournament will be flying high this year in its support of a worthy cause.
It is an organization that has helped many a youth over the years, but many still do not know its exact scope in the 225 Royal Canadian Air Cadet Squadron – Taber Comet, an organization that has 77 years of local history.
Details have been scanty from the Town of Taber about what might have factored into the November 2018 decision to terminate the Taber Pro Rodeo Association's lease agreement for property west of Highway 864.
Following closed session discussion on Nov. 26, town council had passed a motion to issue a notice of termination to the association for their lease agreement (dated Nov. 13, 2012) effective immediately. On Jan. 28, 2019 council had voted to extend the removal of the association's chattels (property other than real estate) to March 31.
According to the minutes the latter vote was not unanimous.
Responding to a media inquiry at council's April 8 meeting, Deputy Mayor Carly Firth was unwilling to provide any further information about council's original decision to terminate the association's lease and order the removal of its chattels from the property.
Taber made history this past week, when teams from the area officially played their first league games under the Southern Alberta Lacrosse Association (SALA). Jared Capner, president of the local association, had played lacrosse for 13 years, with his travels taking him to Lethbridge, Calgary and the U.S.
A local resident has made a plea to the Taber Recreation Board to see if improvement could be made to the Taber Dog Park that is near the Taber Trout Pond.
MAY: St. Mary's Auroras girls slo-pitch team officially hit the field for its home opener, brimming with confidence on a building block from its 2018 season. The team has a warm-up exhibition doubleheader against Kate Andrews from Coaldale last month which were close contests.
The Baseball/Softball Enhancement Society updated its progress for the fourth diamond out at Ken McDonald Memorial Sports Park to the Taber Recreation Board.
Giving further clarity to its budget in which $250,000 has been approved for a 2019 capital budget by the town, society members Suzanne Peters (president) and Rick Popadynetz (treasurer) were on hand to talk about several items and also initial work that has already been done in the diamond area.
A petition has been circling around Taber, protesting the timing of the First Annual Backyard BBQ Competition to be held at Confederation Park.
The event is scheduled for May 25, which coincides with the W.R. Myers high school graduation banquet, leading some parents to start up a change.org petition, asking the date of the event to be changed by the town because many grads use the venue for pictures and family gatherings during the day.
Recreation board member Rene Angermeier had seen the petition on social media and inquired about an update to the situation at the recreation board's May 2 meeting.
The M.D. Motocross Track will be buzzing with activity in May as the Taber Motorcycle Association prepares to host a race in the Alberta Motorsports Association circuit.
It is one of many races in the circuit that also features competitions in Raymond, Medicine Hat, Brooks, and Calgary.
Grace Holowiski simply wanted to build on her last World Championship.
One taekwon-do medal hat trick later, she did just that.
The 18-year-old athlete who trains with Merritt's Ultimate Taekwon-Do brought home two bronze medals and one silver medal as a member of Team Canada the ITF World Championship in Inzell, Germany.
Spring camp has come and gone for the W.R. Myers Rebels football team.
The camp culminated in a jamboree in Medicine Hat earlier this month as interest was solid this year as the squad prepares for the fall grid-iron season.
Although town council's May 9 resolution to release funds and allow the Baseball-Softball Enhancement Society to move construction forward on a fourth ball diamond at Ken McDonald Memorial Sports Park was rescinded last week, discussion at the special meeting had touched on the scope of the project and its original intent.
Merritt's Ultimate Taekwondo was well represented at the recent Western Canadian championships in Saskatoon, as six local competitors (Grace Holowiski, Jocelyn Planger, Brennan Abela, Abby Abela, Evan Abela, Aiden MacDonald) earned medals among the over 300 competitors who competed.
W.R. Myers Rebels rugby program had a week to remember, as it piled up Ws against some battle-tested opponents. In league play last week, the varsity Rebels gutted through an 38-31 victory over Vulcan at Ken McDonald Memorial Sports Park. With the win, the Rebels clinched first place in the Tier III standings and earned a bye to the zone final.
A dynamic duos first foray into Canadian baseball hopes to be a big one, as a new coaching staff is taking over the reins of the Vauxhall Spurs program.
Dru Sebastian is the head coach, coming out of a junior college program from Montana, while also playing four years at a Div. I school out of his home state in Indiana as a pitcher, and has coached for three years at high school before that in Fort Wayne.
JUNE: To say Kevin Krizsan is zoned in when it comes to his pursuit of javelin in track and field, that may be the understatement of the year.
Krizsan competed at zones in Lethbridge at the University of Lethbridge, breaking the zone record for the fourth year in a row as he is finishing up his Grade 10 academic year at W.R. Myers School.
Lots of locals made their presence felt at the Drug Free Western Canadian Championships in Taber in powerlifting.
"There were some very strong men and women who competed in this contest There was a total of 20 Canadian powerlifting records broken, with many personal bests set also. Clay Sparks and John Koethler both had very strong lifting performances, setting multiple Canadian records, lifting some very impressive poundages," said Randy Sparks, an organizer of the event.
The familiarity factor of the University of Lethbridge Pronghorns women's rugby team's latest signing has been kicked up a notch.
As they continue to build toward the 2019 Canada West season, the Horns announced the addition of Dani Wright at the 1st Choice Savings Centre at the U of L. The latest signing continues the Pronghorns' theme of shopping local as Wright, a southern Alberta product from Taber, comes down the road to the U of L. However, she's not the first Wright to pull on a Horns jersey, as she joins her older sister, Genna, who just completed her second season with the Pronghorns.
There were 16 gymnasts from the Taber Gymnastics Fitness Club who made their way to the Coconut Cup in Kimberley, B.C., bringing in numerous top-three performances in the process.
Kevin Krizsan saved his best throw for his biggest stage, and in the process, made some W.R. Myers School athletic lore.
After a streak of four zone javelin titles, the Barnwell resident left the Alberta Schools Athletic Association Track and Field Provincials a gold-medal champion.
It was heartbreak for the W.R. Myers Rebels varsity girls rugby team, who saw its provincial title slip away on literally the last play of the game, with the Vulcan Hawks scoring a deciding try in Lethbridge.
After several starts and stops, the dream of a fourth ball diamond out at Ken McDonald Memorial Sports Park looks like it is finally coming to fruition.
A ceremonial sod turning happened at the park, where the Taber Softball and Baseball Enhancement Society has partnered with the Kinsmen Club of Taber as the point organizations to get the fourth diamond done with the help of $150,000 from the town allocated to the project.
Two local football products have signed on the dotted line to play with the Calgary Colts for the upcoming football season.
Mike Sawatzky made the team as a defensive back and Corny Howatt will be playing on the defensive line.
The Calgary Colts play in the Prairie Football Conference. Junior football is for players aged 17-to-22, and exists as another option to university sports, for players looking to continue on with football after high school.
Taber Viper Swim Club competed in its home meet over the weekend that saw the Taber Aquafun Centre beaming with activity and numeorus top-five finishes by Vipers.
'If you can dodge a wrench…you can dodge a ball.'
While training does not need to be that intense or dangerous like found in the cult classic film Dodgeball, local enthusiasts are hoping to attract more people to a league that meets once a week at Taber Christian School.
St. Mary School help put a punctuation on its 2018/019 school year with its athletic awards banquet.
Headlining the major awards were the Brother Beaudoin Athletes of the Year for both the senior and junior high classes. For senior high, Carl Rodrigo took top honours for the boys, with Hallie Horvath winning for the girls. On the junior high end, it was Preslee Muller for the girls and Nash Sta Maria for the boys. Horvath also earned Academic Athlete of the Year.
The Taber and area fight scene is stronger than ever and the local boxing card highlighted it even further.
With Teofista #34 in town at the Taber Ice Arena, the card boasted an impressive 15 matches with 11 of them featuring boxers representing Taber.
Last year's Teofista #31 in Taber featured six local fighters, but this year the Taber boxing stable grew by almost double.
JULY: The brother/sister duo of Andrew and Alanna Makarchuk made their way to the Alberta Junior Provincial championships in High River earlier this month that saw their results qualify them for further tournaments.
In a cost-sharing arrangement with the Taber Golf Club, the municipality will be footing most of the bill for repairs to the club's parking lot.
Following the closed session portion of the June 24 meeting, town council voted unanimously to approve asphalt repairs to the club's lot with funds to be allocated from the town's general operating revenues.
Through the resolution, the club is contributing $2,000 while the town has establishing a firm ceiling of $8,000 to complete the repairs.
A strong homestand sewed up top seed in the upcoming district tournament later this week for the Vauxhall Spurs baseball club, although a tough American road trip has kept the team grounded.
The Spurs officially wrapped up first-place seeding early in the district tournament with a doubleheader sweep (5-3,15-5) over Tri-County Cardinals at Jets Stadium.
Participants got to enjoy some great weather for the Justin Hall Memorial Golf Tournament at the Taber Golf Club.
Evan Klemen of the Taber Viper Swim Club had a competition to remember this past weekend at the Crowsnest Pass Piranhas meet, taking several first-place finishes.
For 11-to-12-year old boys, Klemen took first in 100-metre freestyle (1:10.12), 50-metre fly (34.68) and 50-metre freestyle (31.00). He also earned second place for 100-metre IM (1:24.60).
Vauxhall Spurs went into the north district baseball tournament in Medicine Hat this past week as the top seed and lived up to their billing, coming away as district champs.
The Spurs were able to avenge an earlier loss to the Lewistown Redbirds by beating them in the championship final 10-4 on Sunday, thanks to having lots of pitching left if it needed to be called upon.
A pilot project that looks like it had plenty of wings for future events had numerous runners converge to M.D. Park.
Taber's Tuff 25/12.5 has numerous local and out-of-town runners compete.
To say the first annual Chris Orban Memorial Tournament was a success would be an understatement.
The tournament was filled to capacity with groups of eight at tee boxes on a sunny Saturday at the Taber Golf Club. Chris Orban passed away after a lengthy battle with a brain tumor, but the heart and determination he showed in his young hockey career mirrored his love for his family, going twice past his life expectancy after his diagnosis to spend every day he could with family and friends.
After helping organize and participate in the First Annual Chris Orban Memorial Golf Tournament this past weekend at the Taber Golf Club, Brance Orban has flown overseas to continue his professional hockey career in Europe.
It will be Orban's seventh season in Europe and his third season playing with MAC Budapest in Hungary.
AUGUST: The Vauxhall Spurs made history last week, winning the Montana Class 'A' State Tournament in Florence. The Spurs defeated host Bitterroot Bucs.
As proud fathers Ryan Fujita and Kim Howg saw the Vauxhall Spurs storm onto the field in victory after closing out the Bitterroot Bucs in the championship final of State in Florence, Montana, it was an extreme feeling of deja vu.
They watched Kole Fujita (catcher) and Brady Howg (No. 1 pitcher) pull off the same feat they did when they played in 1990, earning State against the exact same baseball organization in the Bitterroot Bucs. Howg still had his 90s' Spurs jersey which he hung in the 2019 version of the Spurs' dugout for good luck at State.
Taberite Keegan Brantner continues to make an impact on the local, provincial and national rugby stage.
Brantner recently returned from a tour with the U20 Canadian women's rugby team at the Tri-Nations Cup in Loughborough, England that saw the team compete against the USA and host England, earning a split. Canada managed to upend USA 24-7 in a relatively close match until near the end.
There was plenty of brotherly love at the men's club championship this past weekend at the Taber Golf Club.
Brett Kuryvial was able to register rounds of 74 and 72 to earn a three-stroke victory over his brother Brandon.
Taberite Devin Setoguchi has hung up his skates but that doesn't mean he's moved away from the game.
On top of the annual Verset Skill Camp at the Taber Ice Arena, which is in its 10th year, he also moved behind the mic during the San Jose Sharks' playoff run last season.
Several Taber Viper Swim Club members are peaking at just the right time, saving their best performances at regionals in Lethbridge.
There were 19 swimmers who qualified for provincials in Edmonton, either as a regional/wildcard qualifier or alternate. Also, seven swimmers posted personal-best times at the meet.
The Town of Taber is hoping you will have a pickle of a time.
With the new and improved Taber Community Centre Auditorium with all its renovations, the town is looking to maximize its recreational opportunities for the space and one of its flagship projects will be introducing pickleball to the public with instructional lessons.
A handful of Taber Viper Swim Club members managed podium finishes to conclude its summer swim season at provincials in Edmonton this past weekend.
Darci Wright managed a silver finish in 50-metre freestyle (28.26) for 15-to-17-year-old girls.
Don Velarde also got a silver lining in 25-metre backstroke (18.31) for nine-and-10-year-old boys. His time in 50-metre backstroke (40.38) earned him bronze.
The biggest multi-medalist was Evan Klemen, who earned a trio of bronze medals for his times in 50-metre freestyle (30.52), 100-metre freestyle (1:07.70) and 50-metre fly (33.50) for 11-12-year-old boys.
Coach Kristen Irvine competed and took third in her 400-metre freestyle event (5:25.32).
Another edition of the Taber Cornfest Fun Run has come and gone, this time featuring newer categories of half marathon distances for more serious runners and shorter distances to encourage more family participation.