Peewee Suns end 2019 on winning note
Posted on January 1, 2020 by Taber Times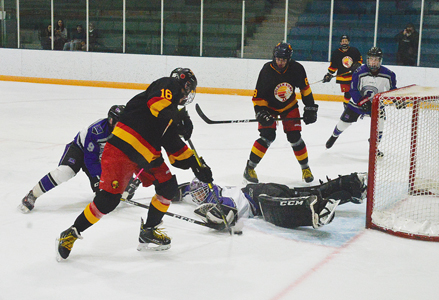 SHOVEL PUCK: Wyatt Broderson of the midget Golden Suns looks to jam home a loose puck in front of the net at a home game at the Taber Arena earlier this month against the Central Alberta Selects. TIMES PHOTO BY TREVOR BUSCH
By Cole Parkinson
Taber Times
cparkinson@tabertimes.com
The Taber peewee "AA" Golden Suns had themselves a game to remember to finish off the 2019 portion of their regular season.
Heading out on the road to face Medicine Hat Orange, the task of walking away with a W on away ice was no issue for the Golden Suns as they handed Medicine Hat a 7-2 loss.
Goals came from Braxton Hanna, Colby Gulliver, Nolan Van Den Bussche, Kobe Urasaki, Cage Smith (2) and Noah Smith.
Jarret McNeill, Cage Smith, Barrett Van Nistelrooy, Grady McLeod, Jager Gugyelka, Nathan Planger (2), Kayden Yeaman would all find the score sheets with assists.
Brylin Noble was solid between the pipes stopping 23 of the 25 shots on net.
The peewee Suns have a busy first weekend coming off the Christmas break where they play three games.
First, they head to Medicine Hat for a rematch against Orange on Jan. 3 before coming home for games against Red Deer Parkland (Jan. 4) and then the Wheatland Braves visit Taber (Jan. 5).
BANTAM: The Taber bantam "AA" Golden Suns were not as successful in their last game for 2019 as they were on the road facing the West Central Tigers, eventually walking away with a 6-3 loss.
While the Golden Suns left the ice in the first period up 1-0, the team was unable to stop the dangersous Tigers offence.
Goals for the Suns came from Heath Hansen, Riley Preachuk and Connor Eldridge.
Chance Loke (2), Brady Magarrell, Rhett Klemen and Matteo Blasetti all chipped in with assists.
Both Golden Suns goaltenders also found their way to the blue paint as Keegan Stenger made 12 saves on 15 shots while Kahil Wright 18 saves on 21 shots.
The Taber bantam "AA" Golden Suns will find themselves back on home ice to kick off 2020 when they face off against the Medicine Hat Hounds on Jan 10.
Puck drop is at 8:30 p.m.
MIDGET: The midget "AA" Golden Suns skated away with a 3-2 victory over the Foothills Bisons in their final game of 2019.
In a close matchup at the Taber Arena, the Golden Suns would win thanks to goals from Tristan Miller, Jayden Kostiuk and Quade Hughson.
Rylan Millo, Brylan Span, Kolby James, Josh Verloop (2) and Max Nevil all had helpers in the game.
Aidan Low was fairly busy in the matchup with Foothills making 24 saves on 26 shots.
Next up for the midget Suns is two home games when the Lethbridge Hurricanes visit on Jan.4 at 8 p.m.
They face the Foothills Bisons who are hoping to avenge their last loss to the Suns on Jan. 5.