Myers Rebels hit home court for first time
Posted on December 25, 2019 by Taber Times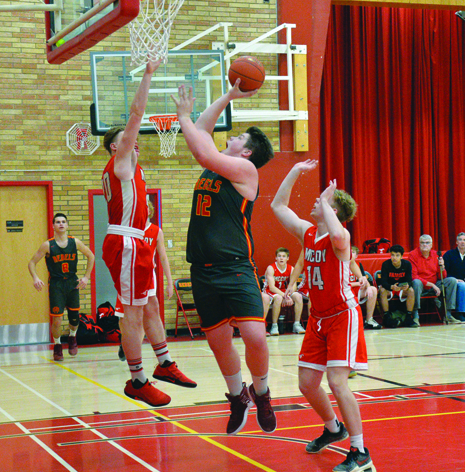 DOWN THE LANE: Luke Jensen of the W.R. Myers Rebels senior boys basketball takes the ball to the hoop during the team's home opener earlier in December. TIMES PHOTO BY COLE PARKINSON
By Cole Parkinson
Taber Times
cparkinson@tabertimes.com
The basketball season is well underway as girls and boys senior and junior teams have hit the hard court for the 2019/2020 season.
The W.R. Myers Rebels girls basketball teams hosted the Magrath Pandas on Dec. 18 and neither saw the result that they wanted. The Junior girls would keep it close at the half trailing 32-25 but Magrath would further their lead in the final two quarters as they defeated Myers 54-42.
Shylynn Rice would lead the Rebels offense going off for 19 points while Bryanne Jones chipped in eight, Darci Wright and Kassidy Virostik each had five, Brooklyn Baker had three and Andrea Heezen rounded out the scoring.
Unfortunately the senior girls couldn't fair much better against the Pandas as they were dominated much of the game.
At the half, Magrath had a 46-18 lead, which would result in a 81-47 final.
Anika Steed and Emily Hoyt were the Rebels' main offensive weapons as they each reached double digits, 18 and 13 respectively. Other offense for the Rebels came from Halle Johnson with six points, Elisa Rios and Hayley Jones with three each, and Rachel Pack and Abby Wood found one basket each as well.
The senior Rebels girls team is off for the Christmas break and will return to action when they face the same Magrath Pandas on the road on Jan. 8.
They then will head to Edmonton for a tournament at Bev Facey from Jan. 10-11.
The boys Rebels teams would hit home court the following night when they welcomed the McCoy Colts in their home opener. The JV Boys would find their groove in their first home game of the season as they held on to win 78-52. Other than a nine point second quarter, the junior Rebels won the other quarters quite handily.
Kade Lund and Colby Hansen were hot scoring 17 and 18 points, respectively.
A ton of other junior Rebels would find the score sheet including Dylan Saunders (eight points), Ethan Chapple (eight points), Chase Jensen (six points), and Aiden O' Conner (four points).
The senior boys would hit the court next and despite strong third and fourth quarters, they were unable to complete the comeback.
Outscored 31-19 and 20-16 in the first two quarters, the Rebels offense had a turning point after the break where they scored 26 and 29 points and would eventually fall in a close 95-90 loss.
The second half saw Justin Schortinghuis come alive where he cashed in a number of his team high 19 points.
Kevin Krizsan and Luke Jensen hit for 15 points each while Quinn Bailey and Shawn Harris would each push in 14 points. Other offense came from Kade Jensen, Brett Bullock, Taylor Shimbashi and Josh Bekkering.