Rebels fall in consolation
Posted on December 18, 2019 by Taber Times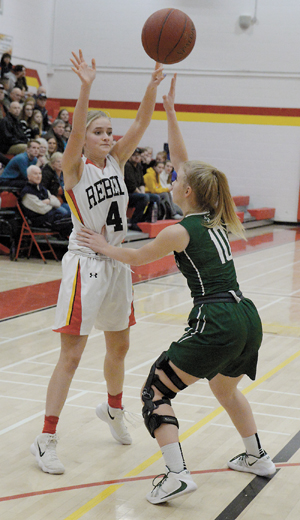 TIMES FILE PHOTO
By Greg Price
Taber Times
gprice@tabertimes.com
W.R. Myers Rebels varsity girls basketball team suffered a cougar attack in the consolation final of a tournament in Cardston over the weekend.
The Rebels were pushed to the consolation after a tough opening match in a 71-40 loss to Centennial Coyotes.
Vicky Shimbashi had 11 points in the loss and Anika Steed added 10 points. Abby Wood hauled in 10 rebounds.
"We struggled scoring and had a number of costly turnovers that gave Centennial some really easy baskets. Centennial is a really good team and were the eventual champions of the tournament. We worked hard for 40 minutes and didn't give up," said Kenney Wood, head coach of the W.R. Myers Rebels varsity girls basketball team."
The Rebels rebounded quickly in the first game of the consolation bracket with a dominating 68-30 victory over Chestermere Lakers.
Abby Wood had 15 points to go with 10 rebounds, with Anika Steed also registering a double-double with 12 points and 13 rebounds. Shimbashi added 10 points.
"Everyone scored at least two baskets. It was a good game for us," said Wood. "In the first quarter it was 18 to 14 for us, but then after that, we played some tremendous defense and held them under 10 points per quarter. Marty and I were extremely happy for the girls to get another win," said Wood.
The Rebels led 44-41 at half-time against host Cardston Cougars in the consolation final, but could not hold on, on the way to an 86-73 loss.
Abby Wood had poured in 28 points for the Rebels with Steed getting the double-double of 25 points and 13 rebounds.
"This was a very fun game to be involved in. It's always a good time playing the home team in their home tournament. The game was extremely close the whole way and the girls followed the game plan and came so close to getting the win," said Wood. "The Cougars had an unexpected player step up and make some huge three-point shots in the fourth quarter that gave them the edge. As coaches we were very happy with our play in our final two games. The girls are learning and getting better. They continue to play hard defence and seem to be gaining confidence in their abilities."
Last Wednesday, the Rebels lost its home opener in Southern Alberta Girls Basketball League play with a 74-40 loss at the hands of Medicine Hat Kwahommies.
Steed had 17 points to go with 10 rebounds and Shimbashi added 10 points.
"We were able to stay with them for the first quarter, but got into some foul trouble and struggled getting the ball down the court," said Wood. "They continued to pressure us the whole game and we had too many turnovers. We also had some shooting trouble and couldn't convert many shots into points."
The Rebels hosted LCI Clippers yesterday with results unavailable at press time. The team also hosts Magrath Pandas today with junior varsity at 6 p.m., with varsity to follow at 7:45 p.m.
After the Christmas break, the team is on the road against Magrath on Jan. 8 and then have a tournament at Bev Facey in Edmonton on Jan. 10-11.