Celtics outlast Vikings on buzzer-beater
Posted on December 18, 2019 by Taber Times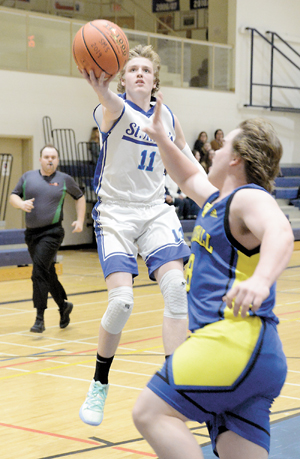 BATTLE TESTED: Carter DeBoer of the St. Mary Celtics drives to the basket for a finger-roll shot against the Vauxhall Vikings last Tuesday. TIMES PHOTO BY GREG PRICE
By Greg Price
Taber Times
gprice@tabertimes.com
In the spirit of the Christmas season, while the St. Mary Celtics didn't do a reenactment of Miracle on 34th Street, they had their own miracle on 50th Street in Taber.
That's where the St. Mary Celtics hosted the Vauxhall Vikings and came away with a thrilling, buzzer-beating 82-80 victory over the Vikings on a circus shot by Carter Hendricks in River Ridge Basketball League play last Tuesday.
"It was a very dramatic and exciting finish. We had 5.4 seconds left and we had the ball in our own end," said Ken Gabruck, head coach of the St. Mary Celtics boys varsity basketball team. "He beat a couple of Vikings players (off the dribble) at the centre line and then he put up a three-pointer from about 10 feet beyond the arc."
With a Vikings team that is perennially a River Ridge Basketball League powerhouse, with many Vauxhall Academy of Baseball athletes in tow, the Celtics were able to stay with the Vikings throughout, including weathering a late fourth-quarter comeback.
"It was a momentum-changing game. We dominated the third quarter, outscoring them 24-6. Their choices of shooting wasn't the best and we were able to rebound and run on them," said Gabruck. "In the fourth quarter, they put on a little bit of pressure and we turned the ball over four straight times. You get the unforced errors and all the sudden you have a 10-point ball game. And when you have good athletes like they do, they can close that gap in a hurry and we knew we were in trouble. Then its 80-79 with seconds left where we made our shot."
The Celtics carried that momentum to a tournament at Kate Andrews in Coaldale on the weekend, that saw the Celtics square off against those same Vikings in the championship final. But this time, a severely undermanned Celtics squad fell 75-59 to Vauxhall.
"A big difference was we were short ball players. I knew we would be a couple short because of prior commitments, but the flu bug kind of hit us, too," said Gabruck. "We played the final game with only five players. Our game plan was to start it and go the way we normally do and go as long as we could. We were down by two points at the end of the first quarter, and then down eight at the half. They wore us down, no doubt about that."
Hendricks had 23 points in the loss. Beau Huseby and Peter Klassen had 10 points each.
The Celtics road to the championship final started off with an 82-66 victory over Coaldale Christian.
"Our defence was very strong against their taller and skilled athlete. They have one very dominant player and we were able to slow him down a bit," said Gabruck.
Hendricks poured in 35 points in the win and Huseby added 16. Peter Klassen and Seth Muller had 10 points each.
The Celtics then squared off against host Kate Andrews Pride and emerged with a 75-64 victory to earn a berth into the championship final. Hot shooting in the first quarter by the Celtics took the crowd out of the game early, where the Celtics cruised from there.
"We had a tremendous start. We hit six threes in the first quarter and opened up a 32-19 lead. We started on a roll and sort of maintained a 10 to 15 point lead after that for the rest of the game," said Gabruck.
Hendricks had 18 points in the win and Peter Klassen had 14 points. Carter DeBoer and Huseby both had 13 points apiece.
"When we rebound on both ends of the court, we can score a lot of points in transition. When you take Beau and Seth, they can jump out of the gym those two. When they are rebounding, we get going," said Gabruck. "Then you get the ball in Carter Hendricks' hands and he either shoots or distributes it to the open man."
The Celtics have had their healthy share of wins in December, but Gabruck would still like to see some more overall consistency in his team's games so victories can come easier, or losses less lopsided.
"We need our players to be consistent in the first half and the second half. What has been happening is we've been having dominant performances in the first half, but nothing in the second half or vice versa," said Gabruck. "It's a matter of consistency for 40 minutes, which we are lacking right now."
The Celtics played Bow Island on the road on Monday. In the New Year, the Celtics play Vauxhall Vikings on the road on Jan. 7, before heading off to a tournament in Bow Island on the Jan. 10 weekend.