Auroras earn silver at Coaldale tourney
Posted on December 18, 2019 by Taber Times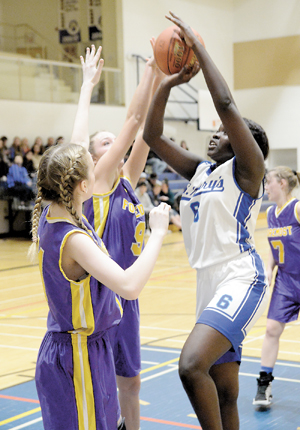 SHOT CLOCK: Nyatuoy Met of the St. Mary Auroras girls basketball team attempts a jumpshot in the paint against Foremost. TIMES PHOTO BY GREG PRICE
By Greg Price
Taber Times
gprice@tabertimes.com
A deep bench and some deep bonds have already formed for the St. Mary's Auroras varsity girls basketball team in this young season.
The St. Mary's Auroras girls returned from a tournament in Coaldale this weekend as silver-medal winners, taking two out of three games.
Thursday saw the Auroras beat host Kate Andrews in a convincing 25-point victory.
To get in the championship game, the Auroras beat a familiar foe in the Vauxhall Queens, a team it had defeated by four points earlier in River Ridge Basketball League play last Tuesday. It was the same margin of victory on Friday.
"They are fast and they are quick. But, we respond well playing against them. But, Friday, our shots weren't falling at all. I think we would have done a little better against them had our shots been falling, but I'm glad for the win," said Rose Ginther, head coach of the St. Mary Auroras varsity girls basketball team. "Last year they were a bit of our nemesis as well. This year it'll be about the same."
The Auroras were able to keep up with Stirling in the championship game in three of its four quarters, but that one off quarter sunk the team in a loss.
"We had three excellent quarters. Stirling is a very tough, disciplined team who moves the ball very well," said Ginther. "We had a tough second quarter where I don't know exactly what happened, they really took it to us. We ended up losing by 21 and they outscored us by 19 in the second quarter – that's the game right there. They had some really timely three-pointers. We had a solid game overall, trying to get the ball into our post players because we were quite a bit bigger than them. But we were bending a little on our defence (in the second quarter)."
The Coaldale tournament marked some solid basketball for an Auroras team that seems to be finding its stride early, given the quick turnaround from volleyball, where very little practice has occurred in the gym in December.
"I'm really impressed with the kids. It's only two weeks into the season, and to me, they are playing at a level we were playing at the end of the season last year," said Ginther. "You have to play by the AASA rules where you can't practice before volleyball is finished. We went to a tournament up in Calgary the weekend before last with the SAIT Silver Bell Tournament. First time being up there and I think an overnight trip with the team definitely helped with team bonding. We have some new Grade 10 students in our school from Taber Christian and I think it was great for our older kids to get to know them. Everyone is clicking and fitting in really well."
The Auroras have gone 1-1 in River Ridge Basketball League play so far. The Auroras hosted Foremost in early December and lost 68-51. Kourtney Bos had 13 points for the Auroras and Nicole Wolaniuk added 10. Ally Ginther chipped in seven points.
The Auroras followed up with a 47-43 win over the Vauxhall Queens at home. Bos and Wolaniuk had 11 points each. Janae Dyck had eight.
A shorthanded Auroras team traveled to Bow Island on Monday to battle the Senator Gershaw Gators.
"We have a number of kids out including two with concussions. I think everyone is ready for a break, where there's some illness too," said Ginther. "Senator Gershaw is always tough and always physical. We will be looking forward to the Christmas break to get everyone back to 100 per cent."
The Auroras hope to be refreshed from the Christmas break where the team will host its invitational basketball tournament Jan. 10-11. The eight-team field will also feature Kate Andrews, Vauxhall, Picture Butte, Willow Creek, Matthew Halton, St. Mike's from Pincher Creek and Three Hills.
Prior to that, the Auroras travel to Vauxhall to battle the Queens on Jan. 7.