Tough tourney for JV Rebs
Posted on December 11, 2019 by Taber Times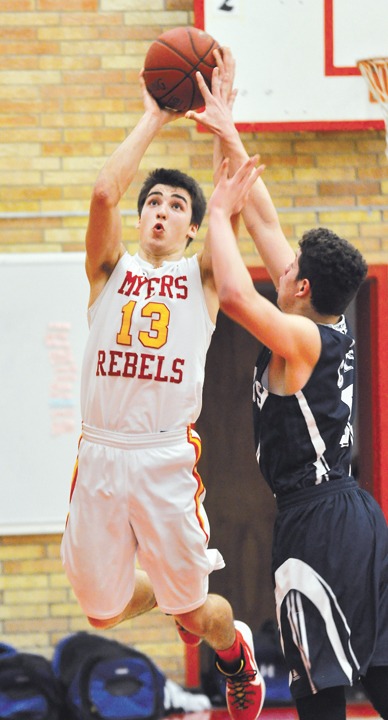 TIMES FILE PHOTO
By Greg Price
Taber Times
gprice@tabertimes.com
W.R. Myers junior varsity boys basketball team went 1-2 at its tournament run in Medicine Hat over the weekend.
Rebels were pushed to the consolation side after an opening 69-47 loss to Campbell Collegiate (Regina 5A). Colby Hansen had 12 points for the Rebels, with Chase Jensen chipping in eight.
"A tough second quarter placed us in disadvantage throughout the rest of the game. We were outscored outscored 25-12," said Doug Leavitt, co-coach of the W.R. Myers Rebels junior varsity boys basketball team. "There was an adjustment from playing in previous games to this tournament. There were higher-quality teams."
The Rebels faced another 5A team in Sheldon Williams and lost 74-59 n th consolation semi-final.
Ethan Chapple poured in 20 points and Jensen and Kade Lund added 12 points apiece.
"Once again, poor second and third quarters hurt us (outscored 46-27)," said Leavitt. "Chapple had a solid game offensively and defensively. Dylan Saunders played really well on the defensive side of the ball."
The Rebels finished off with a victory, in a 80–35 win over Regina Christian on Saturday.
Chapple knocked in 19 points. Jensen and Lund had 17 and 16 points respectively.
"It was a solid win versus an undermanned Regina squad," said Leavitt. "We starting working in full and half-court zone with some success. Overall, it was a good learning experience for us all. Lots of work to do over the next few weeks. Looking forward to the challenge."