Oil Kings proving power on the ice
Posted on December 11, 2019 by Taber Times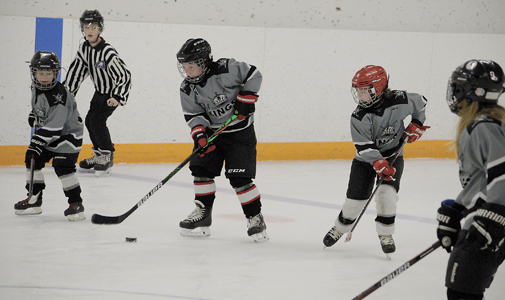 HOLD THE LINE: Aiden Pierzchala of one of the Taber novice Oil Kings teams carries the puck up ice along with a slew of teammates. TIMES PHOTO BY GREG PRICE
By Greg Price
Taber Times
gprice@tabertimes.com
Taber bantam Oil Kings earned a big 12-2 victory over Picture Butte Blades in Central Alberta Hockey League play at the Taber Arena on Saturday.
Evan Rabusic and Brant Allen both had hat tricks. Hunter Damberger and Landon Howg both had two goals apiece. Evan Koizumi and Jaxson Coutts had singles. Howg also drew four assists.
PEEWEE: Taber peewee Oil Kings split its pair of CAHL games on the weekend.
Saturday saw the Oil Kings fall 12-8 to Medicine Hat at the Taber Arena.
Wyler Langhofer-Krahn and Chase Stronge both had hat tricks and Ryan Gray and Tage Jensen had singles. Stronge also had two assists.
The team followed up with a 7-3 victory over Coaldale Cobras on the road on Sunday.
Stronge had two goals and two assists. Blake Rabusic, Damian Beswick, Konnor Wiebe, Zachary Fehr and Gray had singles. Tyson Church and Wiebe each had two assists apiece.
ATOM: Taber atom Tier II Oil Kings won both of its hockey games on Saturday.
The first was a 7-5 victory over Foothills on Saturday morning.
Nixen Miller led the way with two goals and one assist. Delphin DeBoer had one goal and one assist. Cruz Duell, Raiden Koizumi, Lincoln Wiebe and Ethan Volk had singles. Ashton Jensen earned the win in net.
The team proceeded to beat Airdrie 10-7 later in the day.
Miller had five goals and an assist and Wiebe had two goals and two assists. Dane DeGraw and DeBoer each had a goal and three assists.
Duell had a goal and an assist and Ethan Volk had two assists.
Taber atom 'B' Oil Kings dropped both of its games, starting off with a 18-3 loss to the Blazers on Saturday at home. Burke Hyland had the hat trick.
Sunday's slate saw the Oil Kings drop an 11-5 decision to Strathmore Storm at the Taber Arena.
Skylar Jensen had two goals and Jackson Jones, Julian Woordman and Jenner Workman had singles.