Celtics earn bronze in first tournament
Posted on December 11, 2019 by Taber Times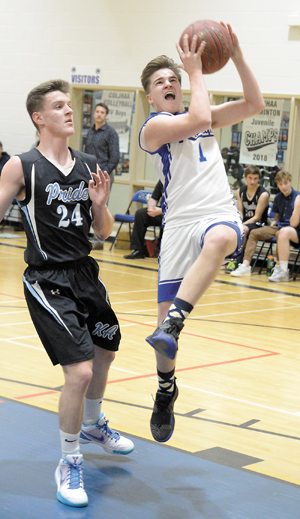 MIGHT AS WELL JUMP: Carter Hendricks of the St. Mary Celtics boys basketball team drives to the basket for a bucket against Kate Andrews Pride. TIMES PHOTO BY GREG PRICE
By Greg Price
Taber Times
gprice@tabertimes.com
Despite having little practice time before its meaningful games after a quick turnaround from volleyball season, the St. Mary Celtics were able to earn a solid 3-1 record in games that counted this past week.
Two of those wins came at a weekend tournament in Warner that saw the Celtics take the bronze medal.
Celtics kicked off its tournament run with a 72-58 victory over Peace River.
"It was close in the first half. But the combination of Seth Muller and Beau Huseby rebounding on both ends changed the game in the third quarter," said Ken Gabruck, head coach of the St. Mary Celtics boys basketball team. "Defensive rebounds, we got fast breaks hustling down the court, and offensive rebounds, we were able to score points."
Peter Klassen had 20 points in the victory and Carter Hendricks poured in 19 points. Carter DeBoer added 17 points.
The Celtics were pushed to the bronze-medal game after suffering a tight 79-75 loss to the junior varsity Magrath Zeniths.
"It went down to the final buzzer and we had several chances to take the lead late," said Gabruck. "We just didn't finish. We had the ball right under the basket and didn't finish. It was 76-75 and we had two possessions where we had the ball two feet away and didn't put the ball in the hoop."
DeBoer led the Celtics with 23 points. Hendricks hit for 18 points and Muller added 14 points.
The Celtics were able to defeat host Warner 75-49 in the bronze-medal game, as the Celtics were able to stay on cruise control and get plenty of minutes in for its bench.
"In this one, we sort of led from start to finish. We were in control the whole game," said Gabruck. "Luke Bell and Sebit Gatluak both had great games. Luke found his scoring touch and scored consistently from the outside. Sebit was a rebounding machine at both ends."
Earlier, the Celtics managed to squeak out a 75-74 overtime win over Kate Andrews Pride in an exhibition game last Tuesday at home.
The Celtics were firing on all cylinders, only to fade later on, but still being able to hold on for the win.
"It ended up the way I thought it would, but I knew we couldn't keep up the way we started the game. We openly had a couple of practices and we played a team that was already in a tournament. That was their fourth game to our first. Our conditioning wasn't there, and I knew that would happen, as the game went on. We'd get tired and make mistakes and get frustrated. And that's what happened," said Gabruck. "But give the kids credit. They put forth a lot of effort to the very end and were beat at the end of the game."
Hendricks led the Celtics with 20 points. Peter Klassen had 14 points and Muller had 10 points. Bell hauled in 11 rebounds.
"We ran the floor really good and rebounded really well," said Gabruck. "By January, we should have our fast-break offence working with set plays in the offence. We need some work on that. The kids enjoy that type of offence where they get to shoot the ball quickly. But the key is rebounding. You have to be able to do that on both ends."
The Celtics hosted Vauxhall yesterday with results unavailable at press time. The Celtics are off to a tournament in Coaldale from Dec. 12-14 at Kate Andrews. The Celtics first game is on Thursday against Coaldale Christian.
"It is a real rush in December. You got kids who come in in Grade 10 and it takes a while to catch on to systems and get their confidence up," said Gabruck.