Rebels girls start basketball season strong
Posted on December 5, 2019 by Taber Times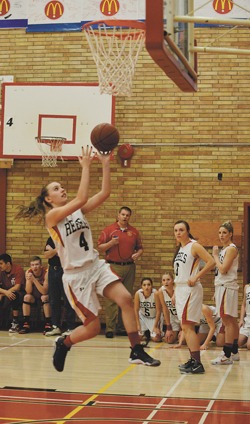 TIMES FILE PHOTO
By Greg Price
Taber Times
gprice@tabertimes.com
Coming off a 3A provincial silver medal in March, the W.R. Myers Rebels varsity girls basketball team is ready to roll to kick off its new Southern Alberta High School Girls Basketball League season this week.
The Rebels return six players from last year, with an older roster overall. The Rebels are going 10 players deep this year, with seven Grade 12s and three Grade 11s.
With not a lot of size compared to last year, with four players either five-foot-10 or five-foot-11, the Rebels will instead be relying on quickness and speed with plenty of ball movement to create opportunities on offence, and pressure on defence to create some easy baskets off of turnovers.
"We have some really good shooters coming back and we'll be a little speedier than before. We will be more defensive minded and getting up and down on the floor, running a few different offences," said Kenney Wood, head coach of the W.R. Myers Rebels varsity girls basketball team. "We lost some powerful forces that we had inside for quite some time, so we are going to go back to where we were four or five years ago, when we didn't have a super powerful, power forward."
"We have good forwards, but they are going to have to rely more on speed, being more apt to working in the open court than down low and bullying their way into scoring. It will be a more wide-open game with looking to do more threes, coming off of picks and doing a catch and shoot. We have good forwards/guards who can penetrate."
The Rebels' regular season, which begins today and goes until March 7, has coach Wood scanning up and down the competition and not finding an easy match among them.
"I look at our league and we don't have an easy league game. There's not one team on there where you think all you have to do is show up and win. It's a super-tough league," said Wood. "But, I love it. I love that the league challenges us so much. It helps with tournaments, where we will play some teams where their leagues aren't super tough. They don't have to work for 40 minutes. They can get away with having a bad quarter and recuperate. Where in our league, if you have a bad quarter, you are in big trouble. The league will be exciting and the girls are looking forward to getting back on the court."
Even with the limited court time the Rebels have had due to snow days, before its exhibition tournament this past weekend in Lethbridge at Winston Churchill, Wood is pleased with the aggressiveness he has seen.
"We've seen some good things. I saw some aggressive play and determination. I always see that, but in the Grade 12s especially," said Wood. "They know this is it for most of them. For most, they are not going to play post-secondary. Knowing that, there's no use for going half speed. No one else is going to do it, I'm in Grade 12 and I've been on the varsity team for one or two years now. They are going to step up and be leaders now."
Those leaders were showcased at this past weekend's exhibition tournament at Winston Churchill in Lethbridge that saw the Rebels go undefeated.
The Rebel started its tournament run with a 66-34 victory over a traveling team from Australia in the Knights.
Elisa Rios had 15 points and Vicky Shimbashi added 12. Halle Johnson chipped in 12 points.
The Rebels then battled host Winston Churchill Griffins and won 68-37.
Ani Steed had the double-double with 15 points and 10 rebounds. Hayley Jones had 11 points and Shimbashi and Abby Wood both had 10 points apiece. Johnson and Emily Hoyt had nine points apiece.
The Rebels finished strong with a 78-29 victory over Immanuel Christian Eagles.
Rios netted 15 points and Beth Nelson had 14 points. Steed chipped in 12 points.
"It was a great start to the competitive season — it was good to get out on the court. The team enjoyed playing against someone other than their teammates. They loved playing against the team from Australia, just to hear them talk. We were able to exchange some gifts with them which was nice," said Wood. "Everyone was able to get in substantial minutes. The whole team worked hard on defence and rebounding, which is something we'll need to be successful this season. The four rookies were able to contribute on both ends of the floor. Aynsley Kunz and Rachel Pack really played great defensively. It's a big jump coming from JV to senior varsity and we were glad to see the new players step up their game and do so well. We've got a lot to improve on, but it's always nice to get that first win of the season in."
The early portion of the season will have the Rebels find their more defined roles on the team in the building of the whole.
"Each of them are going to figure out how they can assist the team. We've got a couple of new kids who are in Grade 12. They are good players, but they are going to have to figure out how they can help the team be it offence or defence," said Wood. "Whatever it is, how can they assist the team to make it better. Not every one on the floor is going to be able to score 20 points, but not every player can also chase the other team's best offensive player around either. Chasing that other player around and being effective, that's sometimes better than being able to score 15 to 20 points."
The whole of the team hopes to make plenty of noise like it did last year at zones and provincials.
"We have a good group and they already seem to be gelling as a team. That is when we have done the best, is when the team is a team and they all get along," said Wood.
W.R. Myers Rebels varsity girls basketball team kick off its league season today with a road game against Raymond Comets.
The team's first home league game is Dec. 11 against Medicine Hat Kwahommies.