St. Mary Celtics fall in bronze medal game
Posted on November 27, 2019 by Taber Times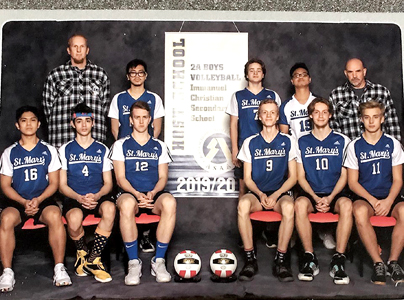 WRAP UP: St. Mary Celtics finished off their volleyball season with a fourth place finish at 2A provincials this past weekend in Lethbridge. TIMES PHOTO SUBMITTED
By Greg Price
Taber Times
gprice@tabertimes.com
When the dust settled at 2A boys volleyball provincials in Lethbridge over the weekend, it was the St. Mary Celtics finishing in fourth place.
The Celtics eventually found its groove at provincials, winning numerous matches, but not before getting shell-shocked to start its run in pool play with a 11-25, 13-25 loss to Calgary Christian on Thursday afternoon at Winston Churchill.
"There were no easy matches. The vibe among organizers was that maybe we had the easier pool, but in the end with a lot of dog fights, the final four had two teams from each pool instead of your 3-1 you would think from the stronger pool. In 2A volleyball, you are usually looking at between six to eight teams that are legit on any given weekend with a chance to win a tournament," said Derry Kolody, head coach of the St. Mary Celtics boys volleyball team. "Our first game of the tournament, we got destroyed. We got caught out of rotation, none of my best players were my best players. I had a talk with the boys and said if this is the way we are going to play, it's going to be a long tournament."
It ended up not being the way the Celtics would play for the rest of the tournament as the Celtics managed to rebound against Millwoods Christian (25-18, 26-24), New Sarepta (25-20, 25-19), Oilfields (25-21, 25-19) and Peace River High (25-15, 25-11) in round-robin pool play.
"We came to play and my best players were my best players. My leaders were leaders and we played a great team game," said Kolody. "After we played Calgary Christian we were written off. It played in our favour, because we played so bad, no one came out to scout us. People were looking at us (after that first match), as the easy team."
In the quarterfinals, the Celtics managed to avenge its loss to the Vauxhall Vikings at championship zones earlier at Lethbridge College with a 25-19, 25-23 victory in the crossover, after the Vikings finished third in its pool, despite having a three-way 4–1 identical record in pool play due to the tiebreaker formula.
"It went down to the very last game in the other pool (for seeding). I think it was a letdown for them after having an emotional third-set win against Immanuel Christian in their home gym. They went from thinking they were in first place to the tiebreaker going against Vauxhall," said Kolody. "We came out strong with some big blocks and we caught them sleeping, beating them two straight."
But, the Celtics had no more gas left in the tank, eventually losing its semifinal to Immanuel Christian 14-25, 21-25, and also the bronze-medal match to J.R. Robson 18-25, 19-25.
"We fought to the bitter end, we didn't go down without a fight," said Kolody. "We went .500 with Immanuel Christian all year and we went .500 with Vauxhall all year. We played a team (J.R. Robson) with a system we had never played before. It was a 6-2 system where they always had three hitters in the front. We had some mismatch problems. The team we played for third against was probably the one we matched up worst against."
Nevertheless, Kolody was quite pleased with the season that was as the team bonded in ways he saw very few times before as a grizzled veteran coach at many different levels.
"Their heart and work ethic, they were all very coachable. At times as a coach, you preach team and you want the guys to go to bat for each other," said Kolody. "This was my kind of a team, the underdog team. Even though we won three tournaments and finished second in two, everybody still looked past us. We were a team that persevered and a team that gave it its all. They laid it out there and they listened. Everything that we got, we got as a team. It was one of the most special years I've had coaching."