New curling league finding its footing
Posted on November 27, 2019 by Taber Times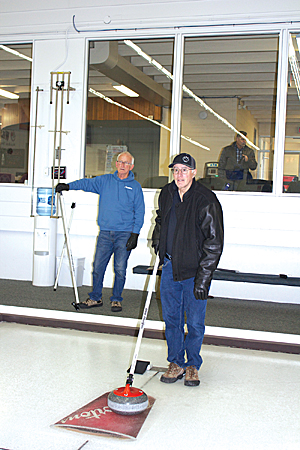 NEW LEAGUE: The Seniors Social Club have ventured onto the curling rink to bring a new curling experience for the Taber area every Tuesday from 9 a.m. to noon. TIMES PHOTO SUBMITTED
By Greg Price
Taber Times
gprice@tabertimes.com
A new generational initiative is being introduced at the Taber Curling Club with the Tuesday morning Seniors Social Club.
Tuesday mornings used to be for seniors only at the curling club, but the focus has now shifted to include all age groups as each generation has a story to tell along with the kinship to follow at seniors Social Club with varying people of all ages.
"We have many seniors who have been curling for more than 60 years, a homeschooling mom like me and her two teenage boys, as well as other people who are just looking to stay active and healthy during the winter," said Carolee Waldner, secretary-treasurer of the Taber Curling Club. "We use a combination of curling styles, normal (down in the hack) or 'sturling' which is stick curling."
"We've moved it from seniors to social for a wider range of ages. Because I curled with them, and I was the youngest in the league, I thought, can I bring my two kids," said Waldner. "It's for anybody of any age. It's a winter sport that people can do. If you're older and you're concerned about falling on the ice, then they use the stick (sturling). It's for any age, and no experience is necessary as we have people who teach."
Two-person stick curling has been introduced to curling rinks across North America, including the Taber Curling Club.
In stick curling, each team is comprised of two players.
One member of each team stays at each end of the rink, and must not cross center ice. The two delivering curlers alternately deliver six stones each per end, while their teammates skip that end, then the roles are reversed. All games are six ends. Each stone must be delivered with a curling or delivery stick, from a standing or sitting (wheelchair) position.
Two-person stick curling is gaining prominence in the sport for those who have mobility issues and those who are new to curling and may be a little intimidated by the regular four-man game.
There is the three-guard zone in regular curling, where you can't remove rocks from a guard placement in the front of the house for a certain amount of stones. For stick curling, the first three stones delivered in an end may not be removed from play before delivery of the fourth stone of that end. If that happens, the delivered stone is removed from play and all other stones are returned to their original position.
Seniors Social Club goes every Tuesday from 9 a.m.-noon.
"It's a $100 for the season to curl at the Taber Curling Club which is affordable. The $100 gives you the Thursday night (Sturling League) option as well," said Waldner.
"There are so many seniors that go south taking holidays (snow birding)," said Elsie Sasaki, a long-term member of the Taber Curling Club.
"When the snowbirders came, they'd be here for October, then be gone for November, December, January, February and come back for March. It was tough to keep members, so they switched it (Tuesday mornings) for seniors exclusive to seniors social," added Waldner.
Along with Senior Social Club, the Taber Curling Club is bursting with activity, including junior curling at 4 p.m. on Thursdays. Thursday nights at 7 p.m. is Sturling League. Wednesday nights from 7-9 p.m. is mixed league and Monday nights is Ladies League.
The next bonspiel at the Taber Curling Club is the Japanese Canadian Bonspiel on Nov. 30-Dec. 1.