Oil Kings prove royalty at tournaments
Posted on November 20, 2019 by Taber Times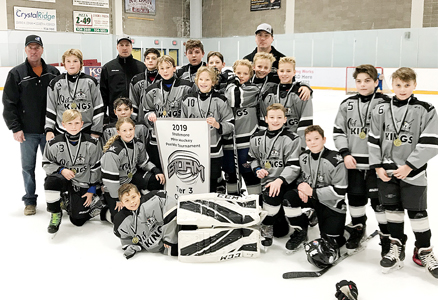 TEAM SUPREME: Taber peewee Oil Kings skated to a tournament championship in Strathmore, being able to turn the tables on the Red Deer Chiefs in the final game. TIMES PHOTO SUBMITTED BY CATHERINE KERKHOFF
By Greg Price
Taber Times
gprice@tabertimes.com
Taber peewee Oil Kings earned the championship of a Tier III tournament in Strathmore.
Sunday's championship final featured a 9-5 victory over Red Deer Chiefs.
Damian Beswich had a hat trick and Wyler Langhofer-Krahn, Tage Jensen, Konnor Wiebe, Chase Stronge, Rex Bell and Lincoln Weiss had singles. Avery Remfert earned the win in net.
Oil Kings kicked off its successful tournament run with a 10-4 victory over St. Albert Thunder on Friday.
Stronge had the hat trick and Beswich scored twice. Ryan Gray, Wiebe, Bell, Ryler Kiss and Blake Rabusic had singles. Carter Kerkhoff had four assists.
Earlier, the Oil Kings did stumble against the Chiefs 3-2 on Saturday.
Langhofer-Krahn and Stronge scored for the Oil Kings.
Saturday's slate also included an 8-2 victory over RMAA Renegades.
Beswich scored five times, with singles going to Langhofer-Krahn, Wiebe and Bell. Wiebe also had two assists.
ATOM: Taber atom 'B' Oil Kings finished as silver medalists at the Charmont Memorial Tournament this past weekend in Drumheller.
The team went undefeated in round-robin play before eventually falling to the host Drumheller Raptors in the championship game, 10-3.
Burke Hyland, James Ruggles and Emmett Ruggles tallied for the Oil Kings.
Oil Kings victories in round-robin play included a 4-2 doubling of Medicine Hat Blackhawks.
Hyland scored twice and James Ruggles and Nathan Gensorek each once.
The Oil Kings did manage to beat the Raptors 7-4 earlier.
Hyland scored the hat trick and Gensorek tallied twice. Julian Woordman and Jaxson Badura had singles.
Oil Kings finished off round-robin play strong by blanking Edmonton Snipers 9-0.
Badura had the hat trick and James Ruggles had two goals and two assists. Gensorek scored twice and Skylar Jensen and Jenner Workman each once.