Celtics earn 2A provincial berth
Posted on November 20, 2019 by Taber Times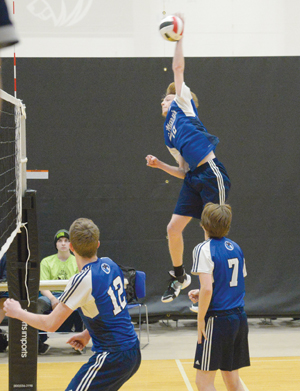 LEAP OF FAITH: Beau Huseby of the St. Mary Celtics volleyball team goes in for the kill. TIMES PHOTO BY COLE PARKINSON
By Greg Price
Taber Times
gprice@tabertimes.com
If there's a silver lining to St. Mary Celtics' second-place finish at 2A volleyball zones at Lethbridge College, it's that the team is provincial bound anyway.
In fact, three seeds will be going to provincials with Immanuel Christian as host, as the Celtics met a familiar foe in the Vauxhall Vikings in the championship match.
"You have to give it to Vauxhall. They were a little more composed than us in the third game. We were up 7-5, then when we switched sides it was 8-7. We just couldn't side out with their run of three, it was 11-7, and by that time we couldn't come back," said Derry Kolody, head coach of the zone silver-medal winning Celtics, who lost in the championship match 19-25, 25-22, 10-15. "They didn't take their foot off the gas and they kept that killer instinct. It was a slugfest though. There were several instances where Vauxhall just wouldn't let the ball drop on their side. They had a lot of second and third efforts on balls. We had a hard rime finishing points."
The Celtics were seeded third heading into zones, with Vauxhall seeded second and provincial host Immanuel Christian first. Nevertheless, the Celtics managed to win its pool by upsetting Immanuel Christian in three sets.
That pushed Immanuel Christian into the other side of the playoff draw with Vauxhall where it has been a battle all season long with the three volleyball programs in the south.
"Our record with Immanuel and Vauxhall has been pretty much .500. It's anybody's game," said Kolody.
Vauxhall Vikings would end up beating Immanuel Christian in the other semi in a slugfest. St. Mary Celtics would beat Kate Andrews from Coaldale in its semifinal.
"They had upset W.R. Myers which was the second-place team from the other pool. We came out guns blazing in that semifinal and we won 25-9, 25-13," said Kolody.
Now with St. Mary, Vauxhall and Immanuel Christian, the top three seeds from the south all going to provincials, Kolody is interested in seeing how the region will do at provincials, having no book whatsoever on teams further north.
St. Mary is in the Blue Pool, along with Calgary Christian, Millwoods Christian, Peace River High, New Sarepta and Oilfields. Vauxhall and Immanuel Christian are in the Gold Pool alongside Our Lady Mission P, Strathcona-Tweedsmuir, J.R. Robson and Rundle College.
"We avoid both of the other south teams in pool play which is nice. Last year, Immanuel Christian got fourth at provincials and Vauxhall got fifth and they each only lost a couple of Grade 12s," said Kolody. "With the three teams going for the south, it could be fun to see how deep the three teams can go because this is the strongest three seeds I've ever seen out of the south at one time. It should be a lot of fun."
Matches will be played at both Immanuel Christian and Winston Churchill in Lethbridge.
The Celtics first match is on Thursday at Winston Churchill at 11:30 a.m. against Calgary Christian. The team then plays Millwoods Christian at 1:45 p.m. at Immanuel Christian. Friday's slate features the Celtics battling New Sarepta at 10:30 a.m. at Winston Churchill and Oilfields at 3 p.m. at Immanuel Christian. Celtics end round-robin play with a 9:15 a.m. Saturday match against Peace River at Winston Churchill.
Provincial bronze-medal match goes at 5:30 p.m. with the gold medal match to follow at 7 p.m. at Immanuel Christian.