Trojans girls prove to be 3J powerhouse
Posted on November 13, 2019 by Taber Times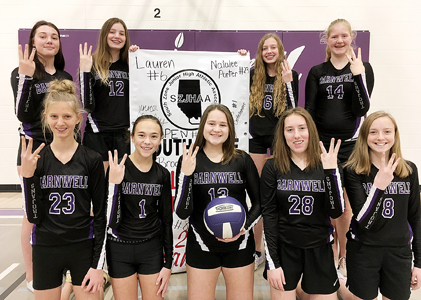 THREE'S COMPANY: Barnwell Trojans girls volleyball team ran the table to victory and a 3J zone banner earlier this month at W.R. Myers School. TIMES PHOTO SUBMITTED BY AARON EDLUND
By Greg Price
Taber Times
gprice@tabertimes.com
Barnwell Trojans girls volleyball team won its 3J zone banner in impressive fashion earlier this month.
With plenty of momentum heading into the zone tournament at W.R. Myers, following a regular season that netted a record of 28 wins, three losses and three invitational tournament championships, the Trojans were ranked as the top seed heading into zones.
"I sometimes wonder what the bigger schools are thinking when they see Barnwell on their schedules. Do they think we are just a tiny school and we won't be any good?" inquired head coach Tracy Forbes, adding, Barnwell, a 2J school by size, took the second zone bid awarded to the Horizon region, as W.R. Myers played host.
If schools had that impression of Barnwell going in, it didn't take long for them to get a wake-up call from the Trojans who had a towering first-impression from six-foot-one middle hitter Olivia Edlund.
"Olivia is on Volleyball Alberta's radar as one of the top players her age in the whole province, and when our Alexis DenHollander or Sadie Wright are passing well for us in the back row, there isn't much teams can do to stop Olivia," said Forbes.
The Trojans cruised in its opening match at zones, beating Willow Creek 25-6, 25-10 thanks to setters Jenna Bailey and Belinda Rios spreading the ball around in the Trojans attack.
Familiar foes were up next for the Trojans who battled St. Mary Storm, having locked horns four times already previously on the season, with Barnwell emerging victorious every time.
"It's hard to beat a great team five times in one season. I thought they had our number in the first set at zones," said Forbes, adding the Trojans were down 12-20 in the first set before rallying to take the set behind the strong serving of Grade 7 Aspen Anderson. "Aspen has a killer serve and hits a heavy ball for us."
The momentum from the first set win carried over into the second where Barnwell cruised to a 25-16 win.
Final match of pool play featured third-seed Irvine, where on paper it looked like a tight match, but was anything but in victory that saw the Trojans smash and block its way to an easy win.
"Brooklyn Torrie's serves were rock solid all season for us," said Forbes. "It is so relieving as a coach to know that every serve will find its mark when Brooklyn is serving."
The victory proved just as easy to start playoffs as the Trojans dispatched Parkside from Redcliff to meet host W.R. Myers in the zone final, a tall task anytime a team is in the opposition's home court.
"Without a doubt, Myers had been one of the more difficult teams we have had to play all year," said Forbes. "Their setter, Lexi Gedny is a great player with a fantastic serve."
Gedny's serve and play helped the Rebels get a 16-12 lead in the first set before the Trojans rallied, this time behind Olivia's younger sister Lauren.
"Lauren has played well beyond her years all season. I'm sure teams are shocked to find out that she is only in Grade 7."
Lauren Edlund, with the help of Grade 8 Natalee Porter stepping up in the final eventually led to a 25-23, 25-19 zone-clinching victory.
"Despite the six-point cushion, the second set could have gone either way. Our 24th point was earned as a result of a rally between the two teams that crossed the net over 10 times. Hits, tips, blocks were all dug over and over again before the Trojans finally scored," said Forbes.