Trio of Rebels earn SAHSFL accolades for stellar play
Posted on November 13, 2019 by Taber Times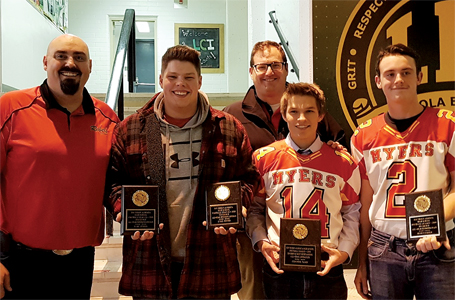 TROPHY CASE: Luke Jensen (All-Star Offensive and Defensive Lineman), Connor Tams (Most Outstanding Linebacker), and Shawn Harris (All-Star Runningback) earned Division 'B' honours at the Southern Alberta High School Football League Awards Night. TIMES PHOTO SUBMITTED BY JASON JENSEN
By Greg Price
Taber Times
gprice@tabertimes.com
Southern Alberta High School Football League handed out its awards earlier this month at Lethbridge Collegiate Institute.
Awards are voted on by all the coaches in the Rebels' division, with the caveat you can't vote for your own player.
When the smoke cleared, the Rebels won four awards between three players.
Shawn Harris was named an All-Star Runningback.
"Shawn was one of the key leaders of our team, and just his presence on the field was always a confidence boost to the rest of the team. The other coaches in our division all said that when preparing to play us, he was the player that they game planned to try and shut down," said Jason Jensen, head coach of the W.R. Myers Rebels football team. "Even then he still put up some pretty impressive numbers, and was they guy that was typically able to break a big play when we needed it."
Luke Jensen was named an All-Star Offensive Lineman, and Defensive Lineman in his iron-man duties playing on both sides of the trenches trying to both hold and push the line.
"Being 6-foot-5 and 300 pounds, with the ability to move like a much smaller man, made these awards kind of a no-brainer. Luke played left-tackle for us most of the season, until injuries forced us to change our scheme, and utilize him in the backfield as a fullback," said Jensen. "Defensively, he was one of our leading tacklers, and we found teams often just chose to run their plays to the opposite side of the field from him."
Connor Tams earned himself Most Outstanding Linebacker for Division 'B'.
"Connor was also one of our leading tacklers, and playing on the outside, was the guy most often responsible for sealing the outside edge. One of the opposing coaches told me he was another player that they were forced to specifically game plan for, as they knew if they couldn't double team him, or lock him down, they just couldn't run to his side," said Jensen. "He was one of those players that I never needed to worry about on any play, as he always did his job, and I could count on him to make a big play when I really needed it. All three of these boys are graduating this year, and we're sure going to miss them. They were leaders on and off the field, and are leaving behind some big shoes to fill."