Titans knock out Rebels run for provincials
Posted on November 13, 2019 by Taber Times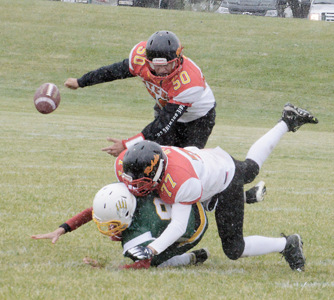 TIMES FILE PHOTO
By Greg Price
Taber Times
gprice@tabertimes.com
W.R. Myers Rebels football team's season came to an end on the weekend, after bowing out of its Tier IV provincial quarterfinal 42-0 to Drumheller Titans on the road.
"We know that Drumheller is always going to be one of our physically toughest opponents of the season, and this time was definitely no different. Couple that with a cold north wind, and a field that was frozen solid, and it meant for a rough day," said Jason Jensen, head coach of the W.R. Myers Rebels football team.
The game started with both teams trading short series before Drumheller switched to its classic double-wing offence, and found the endzone on a misdirection play. The Rebels looked like they were on the cusp of answering back, but the drive stalled.
"That would kind of be the story for the rest of the game. We were able to move the ball, but between our guys having footing issues on the frozen dirt, and a very tough Drumheller defence, we just could never find the endzone. Defensively, it would look like we had them stopped, and then they would manage to catch us on a mass-motion misdirection play, and keep their drives alive," said Jensen. "A couple of early injuries on both sides of the ball certainly didn't help, as our lack of roster depth started to catch up to us. In the end, we just didn't have enough to keep up with them."
Jensen admitted it was a trying season at times for the Rebels, as season-ending injuries were suffered by a couple of the team's best players.
Also, a lack of roster depth made it difficult to have the kinds of practices the team needed down the stretch.
"Even then, these boys kept looking forward, focusing on the next game, and what we needed to do to keep moving on. Once it was all said and done, we still qualified for our fourth straight provincial tournament, a streak which very few programs are able to claim, and that makes us a top-8 team in the province in our tier," said Jensen. "I am damn proud of these boys for all of that. I've seen a lot of teams just kind of fold up their tents, and give up on the season when they face adversity like this, but our guys didn't, and for that, they can still hold their heads high."
Jensen noted, as a coach, the toughest part of the end of a season is saying good-bye to seniors.
"Given the close-knit nature of our program, we've coached these players at one time or another since they were in peewee, and you can't help but grow attached. We're sending some great young men out into the world, I'm certainly going to miss all of them. For returning players, I was pretty happy to hear them getting off the bus, already talking about next season. It's onward, and upward from here, and thinking of the guys we'll have coming back, and the incoming rookies from the very successful bantam team, the future looks very bright for the Rebels."