Rebels have flair for the dramatic
Posted on November 6, 2019 by Taber Times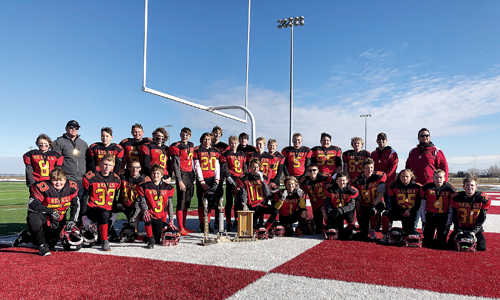 NINE LIVES: Taber bantam Rebels football team were able to bounce back from a shaky first half to take the SAMFA Nine-Man Football League championship over the Lethbridge Junior Coyotes in Raymond on Saturday. TIMES PHOTO SUBMITTED BY JAMIE O'CONNOR
By Greg Price
Taber Times
gprice@tabertimes.com
Nothing came easy for the Taber bantam Rebels football team during its SAMFA Nine-Man championship game this past Saturday in Raymond.
Nevertheless, the Rebels battled through adversity on the way to a 21-20 victory over the Lethbridge Junior Coyotes, to bring home the hardware and keep its undefeated regular season intact.
"I give the Coyotes a lot of credit. We beat them handily in the two previous meetings this season by a combined score of 79-8. They came out aggressive and were able to score on their first possession," said Jamie O'Connor, head coach of the Taber bantam Rebels football team.
The Rebels got shell-shocked when they fumbled on their first possession of the game, and five plays later, the Coyotes were up 14-0 five minutes into the contest.
The coaching staff immediately called a time-out to settle things down, where a turning point was soon to follow as the Rebels were possibly facing a deficit they could not climb out of. The Rebels offence was a three-and-out on its next drive, where the defence came in to make a much-needed stop to halt Coyotes momentum.
"I feel we've been a pretty balanced team in terms of how we have performed on both sides of the ball, but I could see this game needing our 'D' to play lights out the rest of the game and hope our offence could capitalize on some opportunities that came our way," said O'Connor.
The Rebels were finally able to put together an eight-play drive that culminated with a TD run by Elias Cooper. However, the Coyotes answered right back and scored right before half to lead 20-7 after a failed two-point attempt.
"We sat the boys down at the half and assistant Emmitt Campbell immediately pointed to the scoreboard and told them that we weren't out of the game. We made some adjustments and waited to see how they looked to start the third quarter," said O'Connor.
Brennan Abela energized the Rebels with a long kick-off return to start the second half which resulted in quarterback Cody Heide hitting Brigham Porter for a 37-yard touchdown strike.
Abela would once again make his presence known by blocking a punt on the Coyotes next possession, setting up a first-and-goal at the one-yard line.
But the Rebels were unable to get any points, after the Rebels lost 25 yards on two plays due to some play-calling confusion that did not have the Rebels in its goal-line package.
Defences took over after that for most of the second half.
"Our defensive adjustments definitely helped, as we were able to shutdown their running back, Gage Blaco, who had scored their three touchdowns on the day," said O'Connor. "He's a hard player to stop, but the defence showed us they wanted it more in the second half."
With approximately four minutes left in the game, Elias Cooper was able to break free for a 57-yard touchdown run that proved the decisive score after Abela was successful on his third convert.
"I called in a reverse that we had not run much through the season and at times, we fumbled it more than we were successful running it in practice. But, we were running out of options, and so I switched things up," said O'Connor. "Elias Cooper wasn't at 100 per cent, as he was fighting through a nagging injury he suffered in the first quarter. But, he was a warrior and persevered. He was in some noticeable pain and he was just able to get into the endzone before being tackled by two Coyote players. It was awesome."
The Coyotes still had three-and-a-half minutes to score, but with about a minute left in the game, Cooper and Jonathan Redekopp were able to stop the Coyotes runningback two yards short of the first down, turning the ball over in the process on downs.
"Elias definitely put the exclamation point on this game to finish it, by leading the team with 11 tackles while also scoring two touchdowns," said O'Connor. "As one of the younger players on our team, he wasn't shy to put us on his back and will his team to a victory."
Along with Cooper on defence, Redekopp, Allen Clements and Kayden Wright all had nine tackles each, with Clements also recovering a fumble. Brigham Porter and Evan Rabusic each had six tackles apiece.
"We as a coaching staff can't say enough about how proud we are of this team and the heart and determination they showed in the second half," said O'Connor. "This was the first time all season we faced a challenge like that and they all rose to the occasion."
After the Rebels were handed their championship trophy and medals, the Nine-Man SAMFA Awards were handed out.
Tyson Harker claimed the Top Lineman Award.
"He's a leader and a fierce competitor who battles in the trenches. There was nobody who could run up the middle or get to our quarterback whenever he was on the field," said O'Connor.
Kayden Wright was recognized for his play on the field by being named Top Defensive Player.
"He was one of the leaders in tackles every single game, and teams would scheme away from him and he'd still fly all over the field and make plays," said O'Connor. "He's a great kid to coach and a fun player to watch. He expects a lot from himself and plays at a high level all the time."
The Rebels will now practice this week before heading to Lacombe to battle for a Nine-Man provincial championship on Saturday at 4 p.m. against Sherwood Park Wolverines.