Myers Rebels succumb to Cobras' venom in zone game
Posted on November 6, 2019 by Taber Times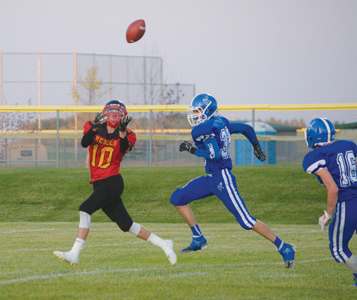 TIMES FILE PHOTO
By Greg Price
Taber Times
gprice@tabertimes.com
W.R. Myers Rebels football team suffered from a zoned in player at its zone title road game against Willow Creek.
The Rebels lost 54-13 to the Cobras.
"My hat is off to the Cobras. They have some absolutely electric talent on that team, including All-Alberta runningback Ethan Perry, and we just couldn't manage to contain all of them," said Jason Jensen, head coach of the W.R. Myers Rebels football team. "We suffered some key injuries early in the game, and were forced to make some personnel shuffles on the fly, which didn't make anything any easier. In the first half, it seemed to be all we could do just to slow them down, only a couple of times were we actually able to stop them."
The Rebels' offence got more of its feet under them in the second quarter, where midway through, the Rebels managed to find the endzone on a short run by Alex Neudorf. Still, the score going into the locker room at half-time was 40-7.
"At half-time, we encouraged the boys to come out and treat it like a new game. There was nothing we could do about the first half, so there was no sense worrying about it. We still had some issues containing Perry, and some others, but the boys played with dogged determination," said Jensen.
Offensively, the Rebels kept stringing together drives, and late in the game, quarterback Brett Bullock connected with receiver Connor Tams on a short touchdown pass, to bring the score to 54-13.
Offensively, Bullock passed for 109 yards, with a touchdown, Tams had 45 yards receiving, with a touchdown, and Aiden O'Connor had 46 yards receiving. Neudorf rushed for 64 yards and a touchdown, and fullback Luke Jensen had 34 rushing yards of his own. Defensively, linebacker Carsen Reid had six tackles, and Luke Jensen and Connor Tams each had five. Linebacker Shawn Harris had four tackles and an interception, and defensive lineman Tucker Mouland had a fumble recovery.
"It seems kind of odd to say that we can take some positives away from a game like that, but we can't help but feel that way. The score was actually closer this time than the last time we played, and we moved the ball more effectively, and were able to score more points. On top of that, I was really happy with the never-quit attitude I saw from our boys. A lot of players would have just shut down after things went bad early, but our boys kept fighting to the end. That's something they can be very proud of," said Jensen. "We're going to need that fight this coming weekend, as we travel to Drumheller to face the undefeated Titans in the provincial quarter-final. They're always a tough team, and give us all we can handle, so I don't expect anything else this time around."
W.R. Myers play Drumheller in the provincial quarter-final on Saturday at 1 p.m. in Drumheller.