Celtics earn silver at Monster Smash in Vulcan
Posted on November 6, 2019 by Taber Times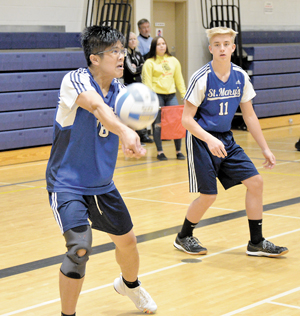 TIMES FILE PHOTO
By Greg Price
Taber Times
gprice@tabertimes.com
St. Mary's Celtics boys volleyball team found a silver lining in its silver-medal finish in Vulcan at the Monster Smash tournament over the weekend.
Stumbling in previous tournaments over unforced errors that led to early exits, that was cleaned up for the most part according to head coach Derry Kolody as the squad now has its eye towards 2A zones later this month at Lethbridge College.
"To get a silver and be back in a final, it was good for the boys. They were happy. We accomplished a lot of our goals for the weekend, trying to cut down on the unforced errors and we had some fun out there," said Kolody. "It was a great weekend for us."
The Celtics earned its silver-medal finish by going a perfect 6-0 in pool play before eventually facing the Vauxhall Vikings in the championship final, a team that had earlier been defeated in pool play.
"We had the 8 a.m. morning draw (on the final day) with Vauxhall and we beat them 25-18, 25-17. The final was our fifth-match of the day and it sort of had a home-town feel for Vauxhall having a couple of Lomond kids on their team," said Kolody. "Having that hometown feel to the match and us beating them earlier in the day, they came out gunning. They were firing on all cylinders."
That momentum had the Vikings beat the Celtics easily in the first championship set 13-25.
"We got molly-wopped that first game. We didn't have an answer for anything and they came guns ablazing. It was fun to see kids get up for a final like that the way Vauxhall did," said Kolody, adding the Celtics were able to give more of an answer in the second set, but still lost 22-25. "They were playing scrappy defence and it sort of rubbed off on us. The second set was what I was expecting, being a lot more competitive between the two teams. It was a great preview of exactly what we will likely see at zones in the near future."
Kolody added the Celtics now have five more practices after the tournament to zone, where it will try and build up its stamina for a possible grueling slate that goes Nov. 14-16 for 1A/2A zones at Lethbridge College.
"You're trying to get to that level where when you are coming late into the day, you can still bring it," said Kolody. "The practices will be bring your lunch box to practice and put the work in. If we do that, I think we should be ready."