Myers Rebels powered by late surge
Posted on October 30, 2019 by Taber Times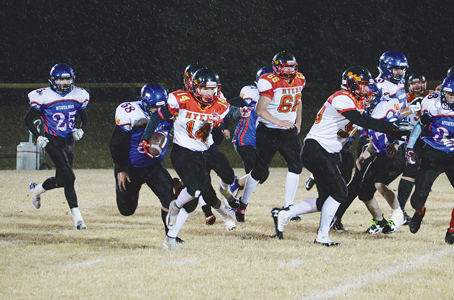 TIMES FILE PHOTO
By Greg Price
Taber Times
gprice@tabertimes.com
W.R. Myers Rebels football team was able to rebound just in time for the playoffs, with a 23-9 victory over Pincher Creek Mustangs in a Tier IV zone semifinal.
Reeling from a couple of tough losses in recent weeks, the Rebels were able to gut out the win despite Mother Nature not co-operating for more ideal conditions at Ken McDonald Memorial Sports Park on Friday night.
"Once again, Mother Nature was working against us, as a north wind that was gusting up to 70km/h, coupled with a driving rain, and even a little bit of sleet made for a bit of a miserable night," said Jason Jensen, head coach of the W.R. Myers Rebels football team. "The ball got slippery really quickly, and the wind gusts made passing near-impossible, so both offences were forced into a ground-and-pound style of game in order to move the ball with any kind of efficiency."
Pincher Creek came out of the gates strong, killing most of the first quarter with a prolonged drive, eventually culminating in a 75-yard drive to put the Mustangs ahead 6-0 on a missed-convert touchdown.
The Rebels immediately answered right back with an eight-play, 65 yard drive of its own before stalling out at the 10-yard line.
"At that point, the game kind of turned into a stalemate for a while. Both teams would put together small drives, but those drives would stall due to either stalwart defence, or untimely turnovers," said Jensen.
Eventually, in the second quarter, things started to go Myers' way. The Rebels put together a 15-play, 88-yard drive that twice saw Tucker Mouland manage to recover fumbled Mustangs punt returns to extend drives on special teams play.
The drive was capped off by a two-yard touchdown plunge by fullback Luke Jensen, followed by a successful point after, on what was the last play of the half, sending the Rebels into the locker room, up 7-6.
"At half-time, we challenged the boys to maintain the level of intensity they had showed on that scoring drive, and come out of the locker room and score again," said Jensen.
Sure enough, the Rebels opened the third quarter with a 35-yard kick return by Mason Werewka, which allowed the Rebels to start in Pincher Creek territory. Running back Alex Neudorf capped off a four-play, 50-yard drive with a 10-yard touchdown run, to widen the gap to 14-6.
On the ensuing kickoff, Myers managed to pin the Mustangs inside their own five-yard line, and three plays later, the Rebels' defence forced the Mustangs to concede a safety, bringing the score to 16-6.
Rebels had to dig deep on defence early in the fourth quarter as the Mustangs forced a turnover deep in W.R. Myers territory, holding Pincher Creek to a field goal.
After the field goal, the Myers coaches elected to take the ball on their own 35-yard line, rather than have Pincher Creek kick off, and on the first play from scrimmage, fullback Luke Jensen broke through the Mustangs defence, and rumbled 75 yards for a touchdown to put the game out of reach.
Offensively, Luke Jensen lead the way with 127 rushing yards to go with two touchdowns.
Alex Neudorf contributed 54 rushing yards and a touchdown, and running backs Shawn Harris, and Randy Martens rushed for 41 yards, and 34 yards respectively.
Defensively, Jensen, and linebacker Kyler James each had five tackles, while defensive lineman Tucker Mouland had four tackles to go with two fumble recoveries.
Defensive linemen Sloane Dube and Nathan Keeping each had fumble recoveries of their own, and cornerback Josh Bekkering had an interception.
"I have to say, I'm really impressed with how these players responded to the early adversity. Being scored on early is bad enough, but coupled with this terrible weather, it could have lead to a complete collapse of morale," said Jensen. "But our boys picked themselves up, and soldiered on. That's the type of thing we're going to need next week against Willow Creek, and then in provincials afterwards. All in all, I'm pretty proud of this group."
W.R. Myers Rebels battle Willow Creek in the Tier IV zone title game on Friday at 7 p.m. on the road in Claresholm.