Celtics look to get back to winning ways
Posted on October 30, 2019 by Taber Times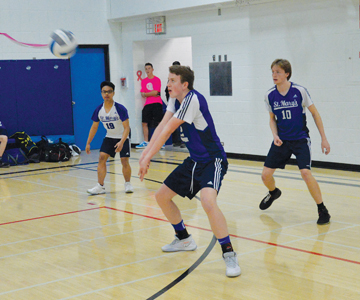 TIMES FILE PHOTO
By Greg Price
Taber Times
gprice@tabertimes.com
St. Mary Celtics boys volleyball team is looking to right the ship as it comes down the home stretch to 2A zones.
After piling up some tournament wins in the earlier portions of the season, the team has been eliminated in the semifinals of its last two tournaments, where coach Derry Kolody is seeing some troubling trends.
The Celtics lost to Vauxhall in the semifinal of its home Double Blue Tournament the previous weekend, and lost to Immanuel Christian at the team's tournament in Picture Butte this past weekend.
"Those are two of the top 2A teams down south, but we aren't playing our best," said Kolody.
The Celtics were in a tough pool for Picture Butte which had both Vauxhall and Immanuel Christian in it. The Celtics split with Immanuel Christian in pool play and dropped both sets against Vauxhall. The Celtics would eventually finish third in its pool before eventually bowing out in the semis 23-25, 15-25.
"I like this tournament, because you know you are going to get good volleyball all weekend. But our unforced errors came out that second game," said Kolody.
It is the unforced errors that have been creeping into the Celtics matches of late that has Kolody concerned that the opposition is not having to work as hard for their points as they have.
"We had success early which is sometimes scary for coach in keeping kids level headed. We just have to get back to doing some things in practice that we did early in the season," said Kolody. "We got to go out and compete. You know what it's like with unforced errors. We're shooting ourselves in the foot. We're doing a good job of earning points, but then we're giving them right back to them saying 'here's a present.' We have to make the other team earn their points more. We have to address that."
With just a little over a handful of practices left in the season and the Vulcan Monster Smash tournament this weekend before zones, Kolody added improvements are paramount in the short turnaround.
"We're defending champs (in Vulcan), so the kids really want to defend their title," said Kolody.
After the Vulcan tournament this weekend, the Celtics have a weekend off before competing in 1A/2A zones at Lethbridge College which go Nov. 14-16.