Double Blue 40 years strong
Posted on October 23, 2019 by Taber Times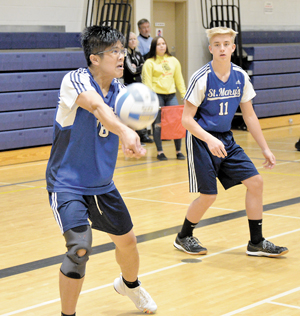 TIMES FILE PHOTO
By Greg Price
Taber Times
gprice@tabertimes.com
A fixture of Taber sport for the last 40 years, the Double Blue Volleyball Tournament celebrated its 40th anniversary this past weekend.
St. Mary School had a whole week of spirit activities leading up to the tournament that saw several vintage articles and photographs on the halls, giving some nostalgia for players and organizers past and present. One of those was Randy Spenrath, current principal at St. Mary School and a participant in the first-ever Double Blue, where he played middle for the boys volleyball team.
"Seeing the T-shirts for sale commemorating the 40th anniversary, it was nice to see. For a tournament to run 40 years, it is amazing. That is a testimony to the people who have followed up since Ken Gabruck started it," said Spenrath. "What happened was we moved into our new gym in our old building. We had this brand new, fresh gymnasium and so we wanted to put a new tournament in it. It was a celebration of the new gym and it was kicked off at that time and it morphed into something that was just solid."
Gabruck, who coached the girls volleyball team at the time, and was the original organizer of the Double, added the school's old gym at the time was only big enough for one court where the new gym opened up the possibility of expanded tournament play.
"In the spring, we kind of decided let's kick off the gym by hosting a tournament that was the largest we had ever had at the time," said Gabruck, adding 40 years ago, the Double Blue featured eight boys and eight girls teams.
Schools all across southern Alberta make sure the Double Blue is a fixture on their tournament slate for the high school volleyball season, with some of the same schools from that inaugural year.
"Teams like Vauxhall and Gershaw (Bow Island) — Crowsnest Pass has been in almost every one. Same thing as F.P. Walshe. There have been schools that have been attending the tournament for years and years and years," said Spenrath. "For a while, we always had a rivalry with W.R. Myers, but it was a friendly rivalry. We all knew each other in those years. In our tournament, we had anywhere from 1A to 4A schools take part in our tournament over the 40 years."
The Double Blue started at 16 teams, then went to 20. It continued to grow in four-team increments up until a maximum of 36 teams at its peak.
"We did 36 teams for a couple of years, but we found it was just way too much work. We had stretched our supporters out too much. We were running two courts at St. Mary's, and courts at Myers and D.A. Ferguson. We were playing at 11 at night on Friday night," said Gabruck. "The game was to start at 9 p.m., but you'd get so far behind because back then you didn't have the rally point so games were so much longer to play."
Just as the tournament has evolved over the 40 years, so too has the very game itself.
Back in the 'olden days', sets only went to 15 points, but points could only be scored if your team was serving. There were service block rules in affect and if a serve hit the net, it was a loss of serve.
"The game has changed quite a bit since 40 years ago. Contact had to be really clean. Most of the time if you were trying to play a serve with your hands, you were called automatically (for a carry). Bad contact with a set, they'd blow it down really fast," said Spenrath. "With the new rules put in place, rallies got longer and it was more exciting to watch. The rules have changed for both good and bad."
As an administrator, Spenrath expressed his gratefulness to the staff, parents, students and sponsors who have supported the tournament over the years.
"We used to have alumni come back left and right to help us out at our tournaments. We appreciate all that support over the 40 years and we want to see how we can keep this tournament going for another 40 years," said Spenrath.
Gabruck echoed Spenrath's sentiment, adding a tournament doesn't last 40 years without a strong core of support from the first year on to the 40th. There are kids who have parents who have played in the exact same tournament.
"We were fortunate over the years, we had a group of teachers there that we all worked together on it, we had great parent support and alumni loved to come back," said Gabruck who helped referee matches this year. "Back then, the school hired four officials so you had two officials per game. It got expensive once you started running 20 teams, but we were fortunate that we had tons of alumni who loved to come back and be umpires for the games. It was good to see (this year), a lot of the present teachers helping out. The tournament keeps going."