Early Tigers rose quickly from the ashes
Posted on October 16, 2019 by Taber Times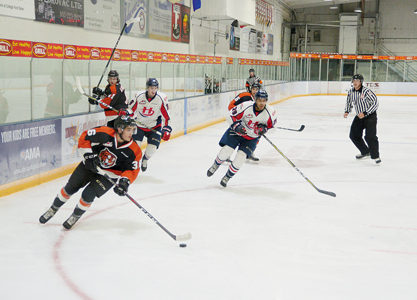 TIMES FILE PHOTO
By Sean Rooney
Alta Newspaper Group – Medicine Hat
Bill Christie was one of the last people on the ice before Medicine Hat's old arena burnt to the ground.
A year later, he helped the Medicine Hat Tigers christen a new one.
And last month, he sat in a new building — the third generation, as it were — as his grandson Logan tried out for the team.
Surreal? You bet. But it also brought back a lot of memories.
"It was good memories, I'll tell you that," said Christie, now 67 and living in Brooks. "We were all united, it was a pretty good team."
Christie moved from Taber to Lethbridge to play midget hockey and his team squared off against an older juvenile-aged group from the Gas City in March of 1969. The next morning they returned to the Arena Gardens as a pile of ashes.
Out of those ashes would rise the modern-day Tigers, who this year begin their 50th anniversary season.
"It was (incredible), to remember back, I'd tried out for the (junior A) Lethbridge Sugar Kings after my midget year and didn't make them," said Christie, a forward who'd captained his midget teams. "So the next year I played juvenile, and my juvenile coach, I tried out for the Sugar Kings again, and Scotty Munro owned the team at that time. He sent in five guys from (the Western Canada Hockey League's Calgary) Centennials and that's when I went out the door, I was one of the last ones cut from camp."
"My juvenile coach said that's not good enough, so he got me a tryout…with the Tigers. I went with a little different attitude and made them."
And you can bet he was a little more fired up whenever the Tigers played the Centennials.
Christie was a fourth-line player from 1970 to 1972, scoring 19 goals and adding 46 assists in 116 games in Medicine Hat while tallying 131 penalty minutes. His claim to fame was never losing a fight his first year, and briefly playing on a line with the legendary Tom Lysiak. A separated shoulder his second season kept him out of the lineup down the stretch. Even though he begged coach Jack Shupe, he didn't figure in to the plan against the Centennials come playoff time.
He would've been part of the team that won the WCHL in 1973 and went to the Memorial Cup, but they didn't carry any 20-year-olds on the roster. It was Lysiak, Lanny McDonald, a young Bryan Maxwell and the Gassoff brothers who led the team.
McDonald's No. 8 and Lysiak's No. 9 are the only jersey numbers the franchise has retired.
"It was a tough team, and lots of talent," said Christie, who went on to play one season of pro hockey in Charlotte, N.C. "We had some tough guys, Doug Fritz, Jim McCrimmon, everybody could hold their own."
"Just a hair out, didn't have all the breaks in the world. And I didn't want it bad enough. I grew up in the auction business, had that to fall back to."
He said Lysiak was the best of those talents, while McDonald "was the most dedicated junior hockey player I ever played with." They both wound up with distinguished NHL careers, McDonald now in the Hockey Hall of Fame and its chairman. Lysiak passed away in 2016.
"He could do it all, and not only that, he was tough," Christie said of Lysiak. "Nobody wanted to fight him either, because he could do that too."
Not all the memories have to do with what happened on the ice. Lysiak was the best man at Christie's wedding to Medicine Hat's Joan Keating. Bill met Joan because she was a Tigerette.
"My mother kept a scrapbook for me through the years, I have all that stuff," he said. "My folks never missed a game, and they lived in Taber at the time."
Aside from a reunion weekend of former Tigers players in the 1980's, Christie hadn't really been back to watch the orange and black. He did some coaching, but now winters with his wife in Arizona, and they compete in senior team roping and barrel racing in the summers. But his grandson Logan wound up at Tigers camp a few weeks ago, ultimately cut but possibly laying the foundation to come back and make some memories here of his own.
"It's kind of unbelievable after 50 years have gone by," Bill said. "It's very nice to see."