Little Storm has big results
Posted on October 9, 2019 by Taber Times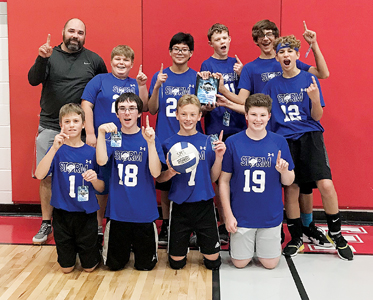 STORM WATCH: St. Mary School engulfed its opposition as both its girls and boys teams earned the championship title for their respective Little Storm tournaments this past weekend. TIMES PHOTO SUBMITTED BY CAROLYN SIEMENS
By Greg Price
Taber Times
gprice@tabertimes.com
It was a weekend to remember for St. Mary volleyball with several top finishes in junior and senior high programs.
They included the St. Mary junior varsity Storm girls volleyball team taking the tournament title of its home Little Storm tournament.
The Storm were perfect in its pool play, defeating D.A. Ferguson (25-6, 25-10), Senator Gershaw (25-11, 25-9) and Piikana (25-13, 25-16).
"We were strong in our pool and ended up in first place going into the playoff round," said coach Carolyn Siemens.
The venue for the tournament changed part way through, thanks to the after effects of Mother Nature and its record snow dump earlier in a 24-hour period the previous weekend.
"In the middle of consolation finals, our gym pipes were dripping water due to condensation from all the snow on the roof. The water on the floor was a safety concern and we couldn't continue playing. Thankfully, Darryl Moser from D.A. Ferguson offered up the gyms over at their schools and at mid-tournament we had a venue switch," said Siemens. "It was very surprising how little disruption it caused for the tournament and with the support of staff, athletes and parents, we were allowed to continue the tournament. It is so great that we live in a community where people are willing to go out of their way to make situations like this work. We were very thankful to D.A. Ferguson for helping us out."
The Storm's toughest competition came in the semifinals where they beat Barnwell Trojans 25-21, 25-19.
"The two teams were such great sports, they warmed up together and are great friends off the court, but they both battled hard on the court," said Siemens.
The Storm would eventually culminate its successful tournament run with a 25-20, 25-14 victory over Foremost in the final.
"The second game we didn't have a good start and let a server get in our head, and we found ourselves at 0-6 quickly. Thankfully, some good serving and quick footwork on our side of the court was able to get us back into the game," said Siemens. "Foremost really struggled with our serving and was having a hard time passing the ball. The girls have a lot to be proud of themselves, as they have showed improvements every time they play."
That included being a late fill in for the school's Big Storm tournament the previous weekend, a tall task to take considering a Grade 7/8 team was competing against Grade 8/9 squads.
"We felt even though we were a 7/8 team, our girls could learn from the experience and help us to fill the tournament," said Siemens.
The intimidation factor bore itself out with the Storm suffered lopsided first-set losses to Vauxhall and Barnwell, before giving much-more competitive efforts in the respective second sets (19-25 and 14-25). That confidence carried over to two competitive set against Taber Christian in a 19-25, 23-25 loss.
The Storm did earn a three-set victory over St. Joe's on the consolation side before falling to Taber Christian in the consolation final 23-25, 20-25.
"The kids walked away from a tournament which they played up having confidence in themselves. They hadn't lost yet in the season to that point and we knew in order for us to find our weaknesses, we had to play some tougher teams," said Siemens.
Also victorious for the Little Storm tournament was the boys St. Mary Storm team taking the championship banner.
St. Mary School had seven different volleyball teams playing on the weekend, with five of them taking home some sort of hardware.
St. Mary Celtics varsity boys volleyball team was tournament champions in Kate Andrews, the junior varsity Auroras earned silver at Immanuel Christian and the varsity Auroras were third at Kate Andrews.