Celtics visit Titletown once again
Posted on October 9, 2019 by Taber Times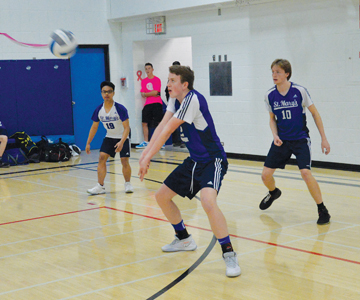 TIMES FILE PHOTO
By Greg Price
Taber Times
gprice@tabertimes.com
The tournament titles continue to pile up for the St. Mary Celtics varsity boys volleyball team.
The squad added to its mantle by running the table in match victories at Kate Andrews in Coaldale this past weekend. The Celtics finished 6-0 in its pool before facing off against a tough fourth-place team in the crossover in the other pool.
"It was definitely a tougher pool and the crossover (match) went to three sets," said Derry Kolody, head coach of the St. Mary Celtics varsity boys volleyball team. "We squeaked out of that one against a 3A school (Crescent Heights). We had more horses offensively than they had. We had three guns that were firing to their one gun. We kept giving them balls and wearing them out."
The semifinals also saw the Celtics getting taken to three sets, including a tight 18-16 victory in the deciding set, after roaring back 25-7 in the second set.
With a day that started with the Celtics having to play an 8 a.m. match, Kolody knew for the Celtics to have a chance against Senator Gershaw, who won its provincials last year, they had to finish them quick in two sets.
"I could sense we were running out of gas so I told the boys we needed to win in two. We had an 8 a.m. match and it was an 8 p.m. (championship). It made for a very long day," said Kolody, adding the Celtics eventually did win in a 25-22, 28-26 championship victory, in which eventually setter Carter Hendricks would eventually be voted a tournament all-star. "My Grade 12 leadership really stepped up. Tyrell Martens is my captain and he took over offensively. Seth Muller, another one of my Grade 12s, blocked the lights out. He blocked everyone, he made hitters think about it before they started swinging from their heels."
The Celtics are off this weekend before hosting its own Double Blue Tournament Oct. 18-19.
"It's a fun tournament to play in front of your grandmas and grandpas. These guys work so hard and are such nice kids, you want to show well at home," said Kolody of the Double Blue tournament which starts a stretch of three straight weekend tournaments before zones.