St. Mary volleyball takes two in championships
Posted on October 2, 2019 by Taber Times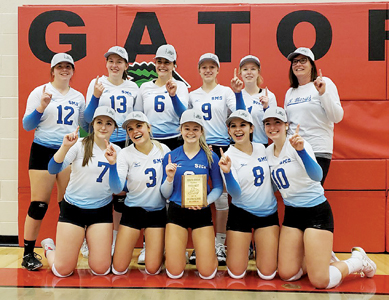 TITLE TOWN: St. Mary School was able to sweep the gender championships at a tournament in Bow Island at Senator Gershaw this past weekend. TIMES PHOTO SUBMITTED
By Greg Price
Taber Times
gprice@tabertimes.com
St. Mary Celtics were plenty battled tested in its tournament run in Bow Island on the weekend, eventually emerging victorious in the championship, but not before some three-set nail-biters.
"They had 12 teams on the boys side and there was some of the Who's Who of 1A and 2A provincials," said Derry Kolody, head coach of the St. Mary's Celtics varsity boys volleyball team of the tournament at Senator Gershaw School. "It was a tournament where we had to come and play."
The Celtics ended up sweeping Bashaw in the championship.
"I think they were pretty gassed after their semifinal. We played Vauxhall in the semi and it was a great match that went three with a lot of heavy balls hit," said Kolody. "I just think they were a little more gassed than we were. I also think we had a few more offensive weapons than they had. They had one guy that could swing, and we had about four guys swinging pretty hard and our setter was outstanding this weekend."
While the Celtics were able to sweep the final, they had more than their hands full in both the semi and the crossover playoff after round-robing play, to go with a split in round-robin play (against Brant Christian).
While Kolody knew he was in tough against Brant Christian and then Vauxhall in the semi, the crossover against Rosemary he wishes he could get back, as the Celtics were almost bounced against a squad he felt St. Mary should have handled more easily.
"Rosemary scared us and took us to three. Sometimes there are teams you shouldn't be taken to three against. It wasn't that we were looking past them, it's just there was no rhythm. We had serves coming to us and we couldn't pass," said Kolody.
Nevertheless, Kolody was happy to see the quality of teams not only at the Senator Gershaw tournament, but also the previous Lethbridge College one as well, which helps set the intensity level needed for zones in the future and a possible provincial berth.
"It's a win you like to have because you know you had to battle a bit for it. It's nice to go through that adversity in tournaments. There's those gut-check moments, and the quicker you have them, I think you can draw on them for later on," said Kolody.
The Celtics are off to a tournament in Coaldale this weekend. The Celtics then have a weekend off before serving as host for its Double Blue Tournament on the Oct. 18 weekend.
Making it a clean sweep of St. Mary dominance at Senator Gershaw was the Auroras volleyball team, earning the championship banner on the girls side of the tournament as well.
"The girls played very well over the course of the weekend at Senator Gershaw, focusing on taking care of our side of the court. Serving and passing was strong, allowing us opportunities to terminate the point," said Matt Marchesin, head coach for the St. Mary Auroras varsity girls volleyball team. "We played Bashaw in the final and the girls played well, earning their points throughout the match."