Rebels run all over Junior Coyotes
Posted on October 2, 2019 by Taber Times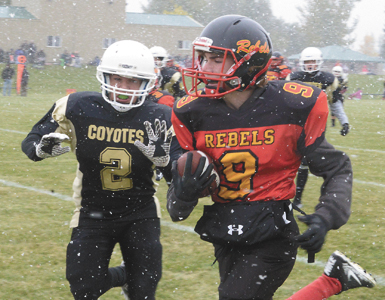 MAD DASH: Evan Rabusic of the Taber bantam Rebels earns a huge chunk of yardage against the Lethbridge Junior Coyotes on Saturday, on his way to 153 yards rushing on the day. TIMES PHOTO BY GREG PRICE
By Greg Price
Taber Times
gprice@tabertimes.com
Taber bantam Rebels football team kept its undefeated streak alive (4-0) in league play, by giving its opponent as frosty a reception as the weather, in a dominating 35-8 victory over Lethbridge Junior Coyotes at Ken McDonald Memorial Sports Park on Saturday as part of Football Day.
"Our boys were fired up before kickoff and knew they had to come out hard and work fast to quiet any chance of the Coyotes gaining any momentum," said Jamie O'Connor, head coach of the Taber bantam Rebels football team.
Coming out fast was perhaps an understatement, as before the Coyotes knew what hit them, the Rebels were up 21-0 just seven minutes into the game.
Quarterback Brennan Abela scored on a two-yard dive which was keyed by a 47-yard scamper by Evan Rabusic.
Rabusic would score the Rebels' second major on a 38-yard run. Brigham Porter set up the Rebels' third touchdown by both causing and recovering a fumble deep in Coyotes territory.
"Brigs has been absolutely amazing for us this year and for the last few weeks he has been on fire. He's the type of kid who brings his lunch pail to every single practice and his hard work is being rewarded on the field," said O'Connor. "We couldn't ask for a better teammate on the field, and I'm glad he's on our side, and not the opposition."
Fullback Allen Clements was able to capitalize on the fumble recovery by hauling in a 24-yard strike from Abela for the score.
Porter once again came away with a fumble recovery and Abela took advantage of the short field by scrambling for 32 yards to the endzone to fully put the game out of reach for the visitors.
"As a coaching staff, we couldn't have asked for a better start from the boys. The communication, aggression and speed were all things the Coyotes had no answer for," said O'Connor.
That aggression included forcing the Coyotes into four three-and-outs in its first five possessions.
Rabusic would end the day with 153 yards rushing and two touchdowns.
Defensively, linebacker Kayden Wright had a whopping 14 tackles.
"Kayden was lights out all day. He wasn't just making plays on his side of the field, he was everywhere and never gave up," said O'Connor.
Porter and Rabusic had six tackles each and interior linemen Tyson Harker and Carter Binnie had eight tackles between the two.
"We've got a few more weeks left in the regular season and we are seeing improvement each week. That's a great sign that we should be prepared to roll come the start of the playoffs in October," said O'Connor.
Taber bantam Rebels are on its bye this week, but are fitting in two exhibition games.
Rebels host Magrath Wolverines today at 6:30 p.m. at Ken McDonald Memorial Sports Park. The team also hosts Medicine Hat Hawks on Monday at 6:30 p.m. at Ken McDonald Memorial Sports Park.