Rebels avenge loss to Wolverines
Posted on October 2, 2019 by Taber Times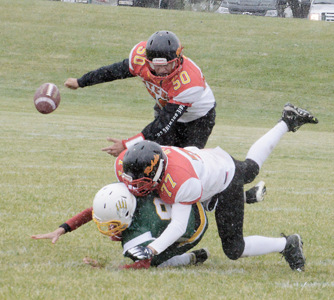 TIMES FILE PHOTO
By Greg Price
Taber Times
gprice@tabertimes.com
W.R. Myers Rebels football team was battling Mother Nature and the opposition in the Canmore Wolverines at Ken McDonald Memorial Sports Park as part of Football Day.
Nevertheless, fans who braved the cold and snowy weather, got warmed up with a 24-9 Rebels victory on Saturday afternoon.
The Rebels started the contest with possession, but also driving into a biting wind which meant a pared-down offensive play book featuring a majority of running plays.
Running back Quinn Bailey proved up to the task, as the Rebels put together a nine-pay opening drive that chewed up plenty of clock, with Bailey eventually hitting pay dirt on a short run for the major.
The Rebels defence continued the momentum by putting constant pressure on the Wolverines' quarterback and limiting the team's talented running back to minimal gains.
Early in the second quarter, Bailey proved his value on the other side of the ball, intercepting a Wolverines pass, and taking it 25 yards to the endzone, to move the score to 14-0. Late in the half, defensive linemen Sloane Dube and Johnny Klassen combined to force a fumble in the Canmore backfield, which was recovered by defensive lineman Luke Jensen, putting the Rebels' offence in great position in the Canmore zone.
Three plays later, quarterback Kade Lund found fullback Shawn Harris in the endzone, putting the Rebels up 21-0 going into half-time.
"We knew Canmore would make good adjustments at half-time, so we weren't at all shocked that they came out utilizing their runningback in a different way, and doing a better job of stopping our offensive drives, especially as the weather worsened," said Jason Jensen, head coach of the W.R. Myers Rebels football team.
The Rebels still managed to get some offensive yards in chunks and their kicker managed to boot a 22-yard field goal into the wind and sleet. Mother Nature affected a shotgun snap that sailed back and had the Rebels pinned at it sown two-yard line.
"Rather than risk losing a fumble or something in the endzone, we decided to concede a safety, and this put the first points on the board for Canmore," said Jensen.
The Wolverines were able to tack on a touchdown on a long run late, but were able to come no closer and both defences dug in their heels.
Bailey would end the game with 102 yards on 10 carries and a touchdown. The Rebels churned out a total of 199 yards rushing. Harris had two catches for 30 yards and a touchdown.
Defensively, Luke Jensen lead the team with six tackles and two fumble recoveries. Defensive lineman Tucker Mouland had two fumble recoveries of his own, while Harris, Kyler James, Alex Neudorf, and Johnny Klassen each contributed a sack. Rounding things out was safety Quinn Bailey and his interception for a touchdown.
"Canmore was the team that ended our season last year, and most of our boys were there for that, so I think it made this win just that much sweeter. For our coaches, we're thrilled with the win, but even more so seeing how dominant our boys can be when forced to play smashmouth football. That's going to come in real handy heading into October, and the possible poor weather that that can bring," said Jensen.
The Rebels play a crossover game this Friday against the Winston Churchill Bulldogs.
"The Bulldogs, being a tier above us in school population, always give us a tough fight, and I expect the same this time," said Jensen. "Opponent aside, the record snow dump we're looking at this week could pose some practice problems as well, but we're already looking at alternative ways we can get some solid indoor practices in. It's going to be a challenge, but I'm confident we'll pull through."
W.R. Myers Rebels battle Winston Churchill Bulldogs on Friday at 7 p.m. at the University of Lethbridge Community Stadium.