Taber adjusting to nine-man football
Posted on September 25, 2019 by Taber Times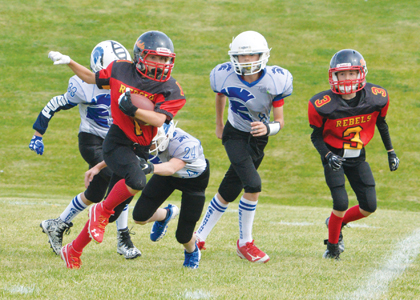 TIMES FILE PHOTO
By Greg Price
Taber Times
gprice@tabertimes.com
Taber bantam football has switched over to nine-man football this gridiron season, where the high school program may be soon to follow if potential mandates by governing bodies are to be followed through with.
Regardless, for Taber Minor Football president and head coach of the W.R. Myers Rebels, Jason Jensen, it has been a fun style of game to watch.
"It's a modification of your standard 12-man game and it still allows you to field a football team with less players on your roster," said Jensen. "Where as fielding a 12-man team, you want to have at least 24 guys. With nine-man, you can get by with 16 or 18 players. It makes it easier, especially for small communities to able to keep fielding football programs."
Nine-man football has been regularly featured in small-town Saskatchewan for decades, where it is hard to find a town in the province without a nine-man team at its largest school.
"The way numbers are going in football, and in sports in general—numbers are down across the board, nine-man football is actually saving a lot of programs in southern Alberta at the bantam level," said Jensen.
Watching a lot of the nine-man games himself in southern Alberta in the young 2019 football season, along with the potential of bigger plays emerging from fewer players guarding the same wide field, Jensen noted the revised game puts a stronger focus on the fundamentals.
"There's little nuances. The shift from 12-man to nine-man isn't a big shift. You just eliminate a few players and the basic football concepts are the same," said Jensen. "Nine-man, speed becomes an even bigger factor, because with less players on the field, teams can spread the field out a little more. The successful teams you are seeing in nine-man right now are the ones with the speed. It also encourages better skill development for kids because they have to be better tacklers in the open field. Even in coverage, there is more one-one-one pass coverage."
Jensen noted that in 2022, Football Canada has mandated teams will have to have 30 players on its roster and 24 kids dressed for game day to be able to play 12-man football.
"There are probably a whole lot of football programs around here that are going to have to go to nine-man if they follow through with that. It's certainly not going to hurt the high school program if we already have kids coming up with experience in the nine-man game if that's where we are going," said Jensen.