Improvements to Taber Arena's kitchen examined
Posted on September 25, 2019 by Taber Times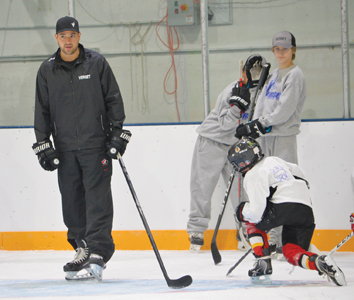 TIMES FILE PHOTO
By Trevor Busch
Taber Times
tbusch@tabertimes.com
Based on input from VerSet Hockey camp patrons, Coun. Jack Brewin is advocating for improvements to the Taber Arena's kitchen facilities with the possibility of year-round operation of a confectionary.
"The concerns I got from them is that we didn't have a confectionary," said Brewin at council's Sept. 9 meeting. "I would like to suggest that our administration look into the cost of upgrading the kitchen facilities at the civic centre (Taber Community Centre). Maybe so someone is willing to rent it, and it's open at least next (year). I think that facility is in need of some upgrades."
Mayor Andrew Prokop questioned if such a proposition would be financially feasible considering the short duration of the camp.
"I guess that's just the question. That's one week out of the year."
Brewin argued the facility is now largely in constant operation.
"With the summer events that are in the arena now it's getting to be a year-round facility with pickle ball, and the field hockey that they're playing, we should be promoting that and making sure we have a good facility."
Coun. Garth Bekkering suggested the topic be added to the agenda for discussion at an upcoming meeting of council.
CAO Cory Armfelt confirmed that a resolution to that effect would not be necessary, but that administration would investigate costs and prepare a report for a future meeting of council.