Taber Golf Club approaches M.D. for funding
Posted on September 18, 2019 by Taber Times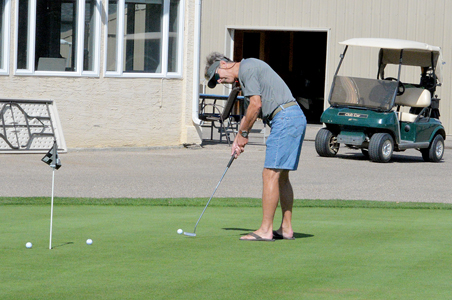 TIMES FILE PHOTO
By Cole Parkinson
Taber Times
cparkinson@tabertimes.com
The Taber Golf Club is in search of $110,000 to cover the cost of two different mowers needed before the new season starts next spring.
In continuing their rounds of pitching to boards and councils, the group had a delegation present in Municipal District of Taber council chambers during the regular meeting held on Sept. 10.
The Taber Golf Club had already presented to both the Taber Recreation Board and the Town of Taber council in search of funding and they presented to M.D. council hoping they would cover half of the cost along with the town.
"This is the first time the Taber Golf Club has come in front of the M.D. We have been operating in Taber for about 40 years now, starting out on town land. Technically, the golf club is owned by the Town of Taber but is run by a volunteer board and has been for over 40 years. We feel we are a major recreational asset to the town and the M.D," stated Jim McDonald, vice president of the board of directors for the Taber Golf Club, who was joined by board members Gord Moore and Rick Tams. "Unfortunately, we have hit some major economic times which are becoming a necessity to come to the town and M.D. for a little bit of assistance. We are not coming here easily. We have been operating at a deficit. We did have some cash reserves and we do operate as fiscally responsibly as we can but we are trying to provide a good recreational facility for the area. Revenues have been declining over the past few years and our operating expenses continue to rise."
With the group hoping to see the two municipalities cover the cost at $55,000 a piece, McDonald highlighted further how tough the times were currently at the Taber Golf Club.
"We're probably the largest budget rec facility in the entire M.D. with a budget over $1 million a year. We are almost self-sustaining but unfortunately our cash reserves have been drying up over the last three or four years," he explained. "We have talked to the town and now to the M.D. to see if we could get some financial assistance to try and get us through a period. With the declining oil revenues and lots of the oil companies pulling back out of here, that has probably hurt us more than anything. A certain of our population is starting to turn to the newer people coming in, the Mexican mennonites for example. We are trying to get them interested and come out to support us also."
The delegation also explained how the group had been garnering money to help supplement the course over the past few years. Community Facility Enhancement Program grants, fundraising, selling of signs/rocks, and a strong corporate membership were some of the club's main financial backers.
While other options were available to gather money to pay for the two mowers, most were not feasible for the group.
"We could borrow (the money) but we would be lying to ourselves, everyone in the community and the M.D. that we could afford to pay it back. We need two lawnmowers, one is a fairway and one is a green cut mower. They are special and we can't use regular ones, you have to use the equipment," added Tams.
In the financial statements the golf club provided, it showed a deficiency of revenue over expenses of $30,272 for 2018 and $34,912 for 2017 and that included approximately $20,000 less in green fees over last year.
To try and reverse trends of declining membership, Taber Golf Club has also introduced free golf to all kids under 14 years old.
The club pointed to both the local Kinsmen and Kiwanis clubs as major benefactors to this program as they donated a bunch of needed equipment.
As far as the mowers though, the group wasn't confident they would be serviceable for much longer.
"Every time you turn the key, it may be the last time you do it," said Moore.
Council had questions around how the club would want the money distributed.
"When looking at the $110,000, and I imagine you want these of the start of next season. So we have other rec facilities that we give a grant to every year. Would it be a consideration if we didn't do a lump sum but prorated it over time? Is that an option or do you need half of it now?" asked Deputy Reeve Tamara Miyanaga.
"Our board, we have cut in every possible way we can including our bank. We can borrow money, it can be paid, and I told the town this, over three or four year period. It is not something we need a lump sum," replied Tams.
While council was sympathetic to the club's cause, some on council expressed a cautious approach before guaranteeing anything.
"I'll be honest with you, the municipality has some issues right now with the declining revenues. I think the provincial budget is going to be interesting and more handing off to municipalities to handle things. So we have an awful lot of uncertainties," said Coun. Brian Brewin.
Council elected to have further discussions around the matter during budget time.
They also had the matter added to the joint meeting between the M.D. and town councils held last week.