Myers comeback falls short against Vikings
Posted on September 18, 2019 by Taber Times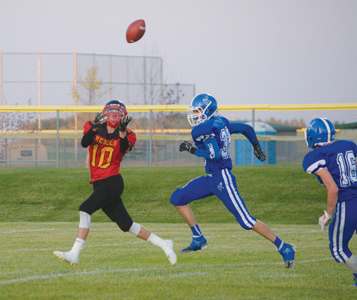 TIMES FILE PHOTO
By Greg Price
Taber Times
gprice@tabertimes.com
It was another loss for the W.R. Myers Rebels football team, but the squad showed huge amounts of improvement from the team's first game of the season.
"It's kind of a weird feeling coming out of this game. You never feel good about a loss, but we've come so far since our game two weeks ago, that we can't help but take some satisfaction in the improvement. This game was a dogfight from start to finish," said head coach Jason Jensen, in the team's 21-13 loss to Crescent Heights Vikings at Ken McDonald Memorial Sports Park on Friday night.
It was a defensive battle most of the first half as the Rebels managed to hold the Vikings to short gains and a series of two-and-outs, but then a special teams play on a punt return turned the tide.
"Offensively, we moved the ball fairly well, but a few key penalties, and some bad luck, paired with a stalwart Vikings defence, meant we just couldn't find the endzone," said Jensen. "The deadlock was finally broken in the middle of the second quarter. It looked like the Vikings returner was stopped in a pile of bodies, but in actuality, his forward motion was never stopped, and he managed to squirt out and run for a long touchdown."
The Rebels quickly answered back, with quarterback Kade Lund connecting with receiver Aiden O'Connor on a 42-yard pass. Flipping the field and putting the Rebels deep in Vikings territory, Oskar Tams would eventually punch his way into paydirt for the major.
The second half started out much like the first, with both teams trading short series, but an untimely drive-extending penalty, coupled with a defensive miscue, and some broken tackles, lead to a long Vikings touchdown run, putting them up 14-7 early in the third quarter.
"Our offence tried to answer back, putting together several promising drives, but penalties killed several of them, keeping us from finding the endzone," said Jensen.
Midway through the fourth quarter, another long punt return, followed by some defensive confusion, saw the Vikings go up 21-7. The Rebels were able to narrow the lead on a Lund to Brett Bullock touchdown connection with roughly a minute to go in the game. But a blocked point after followed by an unsuccessful onside kick attempt dashed any hope of a full comeback.
"All in all, I can't help but be impressed with the turn around from our first game. These boys worked extremely hard over the past two weeks, and definitely looked way better. The offensive timing significantly improved, and we moved the ball well. Defensively, we were very tough, for the most part. But we obviously still have a lot to work on. The penalties killed us in this game, and so did missed tackles, which several times turned what should have been a stop for a loss into a huge gain," said Jensen. "Given the improvement from Game 1 to Game 2, I'm pretty confident that we'll be able to correct the few things that cost us this game, in short order. We're going to have to, as we head to Pincher Creek this week, to play our first league game. This is the first step towards defending the Jerry Dawson trophy, and Pincher always plays us very tough, so it just makes it that much more important that we're at our best."
Offensively, Kade Lund was 13-for-23 for 153 yards and a touchdown. Oskar Tams rumbled for 109 yards on the ground to go with a major. Brett Bullock had five catches for 69 yards and a touchdown, on a day that saw the Rebels churn out 166 yards of offence on the ground and 153 through the air.
Rebels play Pincher Creek Mustangs in Pincher Creek on Friday.