Golf club in tough financial times
Posted on September 11, 2019 by Taber Times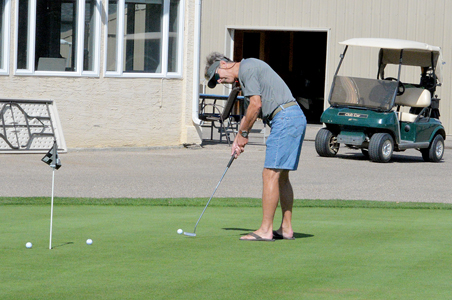 TIMES FILE PHOTO
By Greg Price
Taber Times
gprice@tabertimes.com
Painting a bleak current financial picture, members of the Taber Golf Club board of directors made a presentation to the Taber Recreation Board to request funding for two new mowers for the local golf course, where the board will be approaching both the Town of Taber and M.D. of Taber for funding.
Taber Golf Club has operated in Taber for over 40 years, and is run by a volunteer board. The land the golf course is on is owned by the town, besides the club house.
"We feel we have been operating fiscally responsibly for many years, keeping it out of the town's hands, we are a non-profit board, and we are doing the best we can," said Jim McDonald, vice president of the board of directors for the Taber Golf Club, who provided the golf club's financial from the last three years. "Unfortunately, circumstances in the golf industry in the last while have been very tough throughout the entire continent, in the United States and Canada. Memberships are declining, revenue is declining and expenses are not. For the last three years we've been going down hill, anything we make we've been pouring right back into the course. Unfortunately, you can only chop so much. Our management and our course has done very well in keeping our expenses down, but trying to keep the quality of our play up. But, we are getting to a point it is getting almost impossible to do, to be frank."
McDonald noted the board's request they feel is minor help compared to other recreation expenses in town. Taber Golf Club is looking for some help with its equipment in the form of a fairway mower and a putting mower, where the club board of directors will be asking the town and the M.D. to split the cost at $55,000 apiece on mowers they've looked into as demos to get a discount.
"We are reaching a crucial point with some of our fairway mowers and rough mowers that cannot be repaired. We've patched together for years — but we are at a point, we can finance with the line of credit that we do have, the problem is, what is our capacity to be paying?" said McDonald. "We are now looking at now, and possibly in the future, some minor financial assistance."
In the financial the golf club provided, it showed a deficiency of revenue over expenses of revenue over expenses of $30,272 for 2018 and $34,912 for 2017. The Taber Golf Club is at approximately $20,000 less in green fees over last year.
To try and reverse trends of declining membership, Taber Golf Club introduced allowing all kids under 14 years old being allowed to golf for free.
"To try and get numbers up, this has been an extremely successful program. More children are golfing each and every day. For instance, our junior championship had 10 times more golfers this year than last year," said McDonald. "We do have corporate memberships running at over 30 a year. With an operation this large, our budget is over $1 million dollars a year and with it comes the cost of grounds keeping, maintenance of facilities and employee wages are normal costs. The board has tried really hard to be as fiscally responsible as possible and to help raise funds we have seized a variety of venues such as fundraising through the Alberta Gaming and Liquor Commission which is casino money and we have a list of donors through sign sponsorship programs to try and keep our golf course viable."
McDonald highlighted a debenture from the town for an irrigation system that is now fully paid off this year.
"With the recession that is here, especially in the oil patch, our green fees are down considerably over the last three years and our financials show our cash condition has been continually falling for the last three years," said McDonald.
McDonald added, the golf club's old mowers have reached a stage where they are impossible to fix, having patched them together for years prior. One piece of equipment already has 4,500 hours on it which is well past its expected life expectancy. According to McDonald, the golf club also has an outdated shop which has improper employee facilities along with a lack of storage.
"If we get some help with this equipment (mowers), we could maybe start to look into ourselves doing our shop situation. We want to keep our debt level low because we don't want to turn at one point bankrupt," said McDonald. "We feel we are a huge recreational facility for the town and the district. We are a big asset. We are trying as hard as we can. I know other municipalities are starting to support their golf courses throughout the province and other areas. We hate to do it, but unfortunately, we are kind of forced to."
The recreation board asked if the Taber Golf Club has looked at grant options.
"We looked at every grant we possibly could. The provincial government has stopped. We used to get grants years ago, but now there is absolutely nothing in that bucket," said McDonald. "The only thing we get is every three years is we get the casino, which amounts to about $40,000-$45,000."
Town councillor and recreation board member Garth Bekkering confirmed McDonald's assessment of golf courses suffering declining membership across North America.
"Virtually every single course I've played on in the last five years has had declining green fees. So, it's not just a dilemma in Taber. The Taber golf course is in excellent shape, it's a beautiful facility, but we also know all recreational facilities are losers. All recreational facilities in the town and the M.D. operate at a net loss," said Bekkering.
Taber town councillor and recreation board member Louie Tams opened up the possibility of rather than straight up funding, another debenture at zero per cent on a longer term.
"We are still going to be in trouble. That (last debenture) paid for the irrigation for the newer nine. Our older nine irrigation is in horrible shape, but we will make due with that. We have no shop facilities out there, the building we have is dilapidated and falling apart. We have no employee facilities and we are way down in provincial standards when it comes to safety for things like this because we just don't have the money," said McDonald, adding the Taber Golf Club is likely to be operating in its line of credit this fall, when cash reserves are gone.
"What we are hoping to do is if we can get some help for equipment, we can start to put some money aside and start to do some of that stuff. We have a shopping list an arm long that needs to be done."
The Taber Recreation Board is the first entity the Taber Golf Club board of directors made its presentation to, with meetings with Taber and M.D. of Taber councils scheduled also this month.
"We are the only 18-hole golf course, with another course in Vauxhall that is trying to do its best too. They are the only two golf facilities in the entire area and I've known people who have retired here because of reasonable golf. The problem is if we try and increase our membership (fees) too much, we may end up losing more members than we make in increased revenue," said McDonald. "We are in-between a rock and hard place."
Taber Recreation Board accepted the Taber Golf Club board of directors' presentation for information and recommend the presentation be directed to town council.