Celtics cruise to first tournament title of season
Posted on September 11, 2019 by Taber Times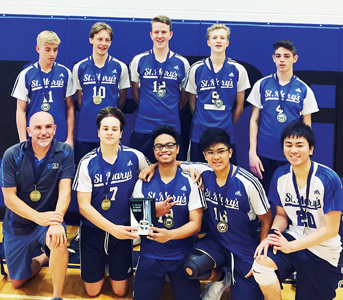 TOURNEY TIME: St. Mary's Celtics boys volleyball team swept its way to the tournament title this past weekend at F.P. Walshe in Fort Macleod. TIMES PHOTO SUBMITTED BY DERRY KOLODY
By Greg Price
Taber Times
gprice@tabertimes.com
St. Mary's Celtics varsity boys volleyball team has started off its season on the right foot, with a tournament title this past weekend at F.P. Walshe in Fort Macleod.
"You're at the time of the year where you get new players in and some players that maybe the previous year didn't get a lot of time on the court, where they can learn, so you don't know where you're at," said Derry Kolody, head coach of the St. Mary's Celtics boys volleyball team. "It could go one way, or it could go another, and it went well."
Kolody admitted the teams the Celtics faced were very young and inexperienced, where the Celtics registered lopsided scores in its victories.
"It's something I like," said Kolody with a chuckle. "But the teams never really hit at us, so we are going into the next tournament having gotten some of the bugs out, but not having any really balls hits at us with constant offence. You like winning, but you weren't really tested."
The tournament did allow Kolody to give his starters and bench players plenty of quality playing time.
"I really like the team that I've got. I got a lot of workers with great work ethic, lots of hustle and the volleyball IQ is there," said Kolody of the Celtics which are nine players deep this season with three Grade 12s, one Grade 10 and five Grade 11s.
The Celtics are off to a Lethbridge College tournament this weekend and then are off for a weekend, before returning to tournament action for a tournament at Senator Gershaw starting on Sept. 27.
"If we can cut down on our unforced errors (form the weekend tournament), I think with the way we play, the Celtics will be a fun team to watch this year," said Kolody.