Youngster hoping to drive/chip/putt his way to Masters
Posted on September 4, 2019 by Taber Times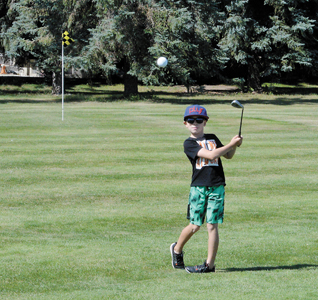 TIMES FILE PHOTO
By Greg Price
Taber Times
gprice@tabertimes.com
Proud Papa Brandon Kuryvial hopes his son continues to hit the mark with his various clubs in his golf bag — there may just be a trip to The Masters for the family if he does.
Eight-year-old Mason Kuryvial has already passed the test on two separate qualifying rounds for drive/chip/putt competitions, and will be traveling with family to attend a regional qualifier at the Chambers Bay Golf Course in University Place, Washington, just south of Seattle.
"This event will be all the qualifying kids from the Pacific Northwest which includes kids from California, Washington, Nevada, Texas, Oregon, Montana, Idaho, Wyoming, British Columbia, and Alberta," said Brandon Kuryvial, adding the family has a tee time booked before the actual competition to get some practice in. "The course is where the U.S. Open was held back in 2015. It's a pretty famous golf course. It has also hosted the US amateur in the past and there is rumors that this course would be in the running to host another US Open in the future."
Mason finished in second place (top three move on) for local qualifying at the Canyon River Golf Club in Missoula, Montana in late July, where it was open to Canadians.
"You get basically three drives, three chips and three putts. There is a point system based on those and you tally up your nine shots," said Kuryvial. "The way the drives work, there's a grid and you have to hit it within the grid and each 10 yard interval there are so many points."
Of his 86 total points, 23 came from his drive, placing him at the top of the driving field, as he was competing against 20 other kids, ages seven to nine.
"Mason generally can drive the ball between 150-175 yards," said Kuryvial. "When we were in Missoula, he started with his drive and they switch it up which one you start with (drive, chip or putt). He said he was shaking on his first shot, but he hit his three best drives I've probably seen him ever hit."
Mason would finish fourth in the field for chipping with 28 points and be tied for fifth in putting with 35 points, making for a second-overall finish with combined points.
"For chipping they have rings next to the hole and the closer you get is how many points you get. The same for putting, where you are trying to put it in the hole, but again, trying to get it as close as possible."
It was a similar second-place overall finish for Mason Kuryvial at the follow-up sub-regional qualifier at The Highlands Golf Course in Post Falls Idaho in early August.
Top two moved on for upcoming regionals, as Mason scored 91 points, finishing a mere five points back from Hayden, Idaho's Cole Paquin. Mason Kuryvial's results included a second in driving (29 points), a sixth in chipping (30 points) and a tie for fourth in putting (32 points).
Mason Kuryvial will be competing at the Drive, Chip and Putt Regional Qualifier on Sept. 8. If Mason manages to win that, it means a trip to the national championship at Augusta, Georgia.
"That means he gets to go to The Masters next year to go to the drive, chip and putt championship there," said Kuryvial.
Brandon added his son was able to get out on the golf course about four times a week this past golfing season.
"Lately, I have been trying to push him to get to the putting green to chip and putt because I want to go to The Masters," chuckled Kuryvial.
The national Drive, Chip and Putt Championship will be televised alongside The Masters.