Viper Swim Club hands out awards
Posted on September 4, 2019 by Taber Times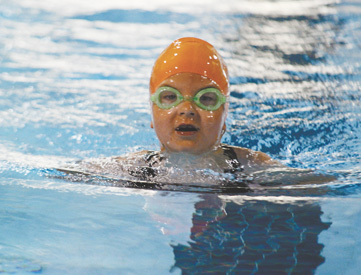 TIMES FILE PHOTO
By Greg Price
Taber Times
gprice@tabertimes.com
Another season is in the books for the Taber Viper Swim Club, but not before the club gave its year-end awards last week to some of its swimmers.
It was dual award winners with Performance of the Year, with both Evan Klemen and Darci Wright.
Klemen made huge improvements in both his technique and focus, according to head coach Kristen Irvine, where you could see the build up and pay off come provincials.
"You saw that drive for competitiveness in the sport," said Irvine. "He went from winning his 100-metre free every time he swam it, and got third in provincials. He got third in three of his individual races and fifth in his fourth individual race. So, he got top-5 in all his races at provincials. Last at provincials, I think he built off of that. Once he got his first taste of winning and aggregate medals in his first swim meet, he just went from there and didn't want to lose anymore. He went from 16th last year at provincials to top-five this year."
Darci Wright's busy schedule did not allow her to commit to the swim club full time this year, but the times she did make it to the pool for meets and practice, she made it count.
"I'm pretty sure this is her last year of swimming and she went from ninth in her 50-free and in the 'B' pool, to beating everyone in her heat and then everyone but one in the other pool to come out second. She annihilated her older sister's record. She crushed it at 28.26 to get second in the province," said Irvine.
"Darci was a great asset to the team, always had a positive attitude and knew when to get down and focus before a race, whether she had seven practices under her belt, or none, she was always able to get up and race."
Most Improved swimmer was awarded to Rebecca Carver.
"She is a quiet leader who works really hard and she also made some huge improvements in her technique and focus for the sport. It was towards the second half of the season where she started trying new races that turned out to be really good for her," said Irvine. "She ended up taking those races to provincials and taking off tons of time off those races. She's ready to come back next year with a whole new attitude."
The most dedicated swimmer for the Taber Viper Swim Club for 2019 was Morgan Bruce who earned the Attendance Award.
"She was always at practice and had a great attitude. She never complained and was always at every swim meet. With each practice and swim meet, she never had enough. She was always wanting to come back, working more, asking for more suggestions," said Irvine. "She was always looking for things to improve on, and with each swim meet she had such a great presence, being a good little leader and cheering for all her friends."
Top new swimmer to the Taber Viper Swim Club was Dominic Loewen who earned Rookie of the Year.
"He did a great job at trying really big new races that a lot of swimmers don't try until they are in their second or third year of swim club, like the 200-metre freestyle — longer races," said Irvine. "He started out a little older than most rookie swimmers, but that gave him the ability to listen to feedback and did a great job learning and advancing through all his swimming skills this summer. I think he has found a new passion for swimming."
Finishing things off for the 2019 Taber Viper Swim Club Awards was Mikayla Kress winning Viper of the Year.
"She was always excited. Her attitude screamed Viper spirit and was always looking at ways to spread that spirit with team mascots and team cheers. She was always trying to swim with the big kids. She loved cheering for her teammates with her big, loud cheering voice at meets and at practice," said Irvine of the 10-year-old Kress. "She was never afraid to tell someone they were doing something wrong or hurtful. She has such a great attitude towards the sport."