Colts run all over Rebels in shutout
Posted on September 4, 2019 by Taber Times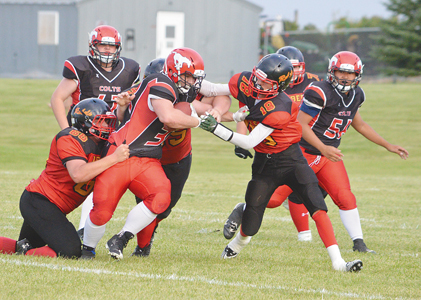 HOME HEART: Rebels' defenders Nathan Keeping (66) and Kade Lund (18) struggle to take down a McCoy Colt during the W.R. Myers Rebels home opener on Friday evening. TIMES PHOTO BY TREVOR BUSCH
By Greg Price
Taber Times
gprice@tabertimes.com
It is back to the drawing board for the W.R. Myers Rebels football team, as the squad suffered a 36-0 trouncing at the hands of the McCoy Colts in its home opener at Ken McDonald Memorial Sports Park on Friday night.
"A 36-0 loss is always tough to swallow, but considering that we've been on the positive side of a few scores like that the past couple of seasons, I guess it's our turn to eat one," said Jason Jensen, head coach of the W.R. Myers Rebels football team. "Things were pretty even for the first quarter, with both of us trading short drives, but eventually McCoy managed to block a punt deep in our end, and recover it for a touchdown to open the scoring. From there, a few crazy bounces, and some excellent play by McCoy when it mattered seemed to be the story for the rest of the game."
Coach Jensen noted McCoy looked sharper than his squad, as overall numbers were tough to come by in training camp to fully implement systems.
"Simply put, McCoy seemed more polished than we were. Perhaps it was the fact that they've already played a game and got the jitters out, or maybe they've just had a better training camp than we did," said Jensen. "But either way, they seemed more prepared than us, plain and simple. My hat is off to the new Colts coaching staff, they have already done wonders turning that program around. Those players were dialed in, focused, and on a mission to win."
Jensen promises the coaching staff will put its heads together and iron out the issues it saw on the field on Friday night. After a lengthy hiatus before its next grid-iron contest certainly helps.
"We have two weeks until our next game, so it leaves us plenty of time to tighten things up. I think the boys themselves took this as a bit of a wake-up call, and based on what a few have told me, I expect this week's practices to be well-attended, and intense," said Jensen. "Sometimes an early season loss isn't the worst thing, as you learn really quickly what you need to work on. I've said before, we have a pretty young team, but I feel the we have the talent to be very successful. We just have to get things dialed in."
Rebels' play Crescent Heights Vikings, on Sept. 13, at 7 p.m., at Ken McDonald Memorial Sports Park.