W.R. Myers Rebels kicking off gridiron season
Posted on August 28, 2019 by Taber Times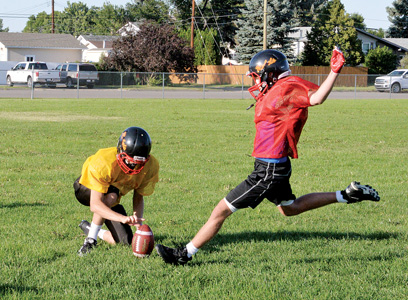 A LEG UP: Kade Lund serves as holder as Connor Tams locks and loads as kicker, on his way to hitting it through the uprights during a W.R. Myers Rebels football practice last week. TIMES PHOTO BY GREG PRICE
By Greg Price
Taber Times
gprice@tabertimes.com
As training camp winds down for the W.R. Myers Rebels football team, the team's head coach is excited to get on the field when the results count.
"Overall, we're going to have a pretty young team. We graduated a very large senior class, but thankfully we have a pretty big, and quite talented, incoming rookie class," said Jason Jensen, head coach of the W.R. Myers Rebels football team. "There are plenty of starting spots available on both sides of the ball, and it's been exciting to watch these young guys working to lay claim to them, competing with some veteran Grade 11 and 12 players who are also eager to prove themselves."
Coming off the heels of a season where the Rebels won division and zone titles, and medaled at provincials, the bar has been set pretty high.
"I think we're going to surprise some people. I'm confident we have the talent to make another good championship run, but of course you never really know for sure until you get on the field, and play," said Jensen.
The Rebels season starts this Friday, when the team hosts the McCoy Colts out of Medicine Hat. The Colts have suffered some hardships these last few seasons.
"But, they have an all-new coaching staff, along with some very talented players, and are looking to be much improved this year," said Jensen. "In fact, this past weekend they squeaked out a 10-9 victory over the Chinook Coyotes, who are one of our division rivals, so judging by that, I'd say the Colts are the real deal. We'll have to be completely dialed in, or they'll make Friday night very tough for us."
The Rebels play this Friday at 7 p.m. at Ken McDonald Memorial Sports Park in its home opener against the McCoy Colts.