Orban keeping up family tradition in athletics
Posted on August 28, 2019 by Taber Times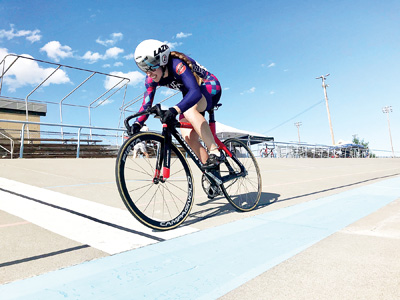 TIMES FILE PHOTO
By Greg Price
Taber Times
gprice@tabertimes.com
Talking a break from her intense training schedule, Sarah Orban was in town to help kick off Cornfest by helping her granddad Joe raise money for the Taber Lion's Club for diabetes at the Taber Parade on Thursday.
Coming off a provincial cycling competition in which she took gold in five different events, Orban hopes one day to represent Canada at the Olympics.
"It was never specifically cycling, I never knew I was going to pick up cycling, but I knew ever since I was a little girl that I wanted to compete for Canada," said 23-year-old Sarah, who sat down with The Times prior to the Taber Parade. "I've always had a dream of representing the Maple Leaf and going to an Olympics, but didn't know which sport."
Orban had played soccer her whole life, thinking perhaps she could fulfill her dream that way, but realizing she was not progressing to the level needed, even though she played four years varsity, her focus went elsewhere.
That's when the RBC Training Ground came in for athletes between 14 to 25 years old. RBC Training Ground is a talent identification and athlete funding program designed to uncover athletes with Olympic potential and provide them with the high-performance sport resources they need to achieve their podium dreams.
"It was combined testing, you did endurance, strength and power testing. I knew I could excel in the power and speed, I gave it a shot (May 2017), and when I won the Alberta event, I was recruited by cycling, skeleton, bobsled, Athletics Canada (track and field), and rugby," said Orban. "I did further specific testing with all these sports and narrowed it down to track cycling from that."
Orban has only been cycling for about a year-and-a-half, and she managed five gold medals at provincials earlier this year, involving both individual and team sprint events.
"It definitely gave me a lot of confidence moving forward. But, I know there is still a long road ahead and a lot of obstacles I need to overcome to try and make it to the top 10 in the world," said Orban. "But, it gives me motivation to keep pushing hard every single day."
Previously, Orban competed in Trexlertown, Pennsylvania in an international competition for UCI Level I racing.
"It's just below the World Cup level. There were athletes from all over the world and raced in five competitions over five weeks. I was coming in around from fifth to 10th place. There were Olympians and girls who had been cycling a lot longer than me in fields of about 35 girls," said Orban. "It was nice getting that experience racing and being in that environment."
It is pure power racing that Orban does in her sprint cycling, reaching top speeds of 60 to 68 kilometres per hour in 10 to 15 second bursts.
"It's definitely a grind where I'm training anywhere between 15 to 19 hours a week on the bike and in the gym. Being an athlete my whole life, I can honestly say I love sprint cycling. I love a challenge and pushing myself every day," said Orban who has just recently graduated from the University of Lethbridge, with a double major in kinesiology and psychology. "My focus this year is to just train and I hope to apply for the Masters program in sports psychology in the future."
Orban has been training out of Calgary and come September, will be training in Milton, Ontario at the national training facility in preparation for the national championships.
"What makes a good race in sprint is just raw power and speed. Being able to push really big gears on a bike on the track. On the track, it's fixed gear with no brakes," said Orban. "Part of the strategy is figuring out which gear to be in and knowing your opponent. Some people run smaller gears and have way higher leg speed, others have raw power and strength and run larger gears. It can get a little physical where you are packed in pretty close with some elbows, but overall it's pretty safe where there are rules when you are racing people. You will be disqualified if you do certain things, so it's a pretty clean sport."
Using carbon-fibre disc wheels to gain ground in aerodynamics, having a top cycle is just as important as having a top athlete.
"The best nations are running the lightest and absolute best-advanced equipment to gain hundredths, thousandths of a second because that's how close these races are," said Orban. "It's photo finishes. The aerodynamics in the sport are everything."
Even before helping fundraise at the Taber Parade for the Taber Lion's Club, Orban was on the road early in the morning for a 30-kilometre cycling trek. Orban's end game is to qualify for the Canadian cycling team for the 2024 Summer Olympics in Paris, France.
"It's a crazy dream, but I'm super excited for what's ahead and I'm going to work my hardest. Coming from a very athletic family, I want to make my family proud and my country proud," said Orban.