Further study of golf carts for municipal roadways defeated by 5-2 vote
Posted on August 28, 2019 by Taber Times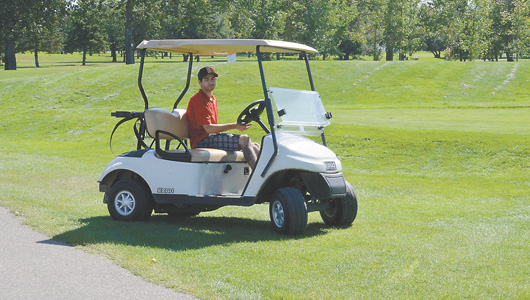 TIMES FILE PHOTO
By Trevor Busch
Taber Times
tbusch@tabertimes.com
Town council has put the brakes on a proposal to allow golf carts on municipal roadways after an investigation by administration identified a number of legal roadblocks.
On July 15, council passed a motion directing administration to look into the matter, and a report was presented to council at their Aug. 19 meeting.
In 2012, the Village of Delburne put forward a motion through the Alberta Urban Municipalities Association (AUMA) which proposed allowing golf carts on municipal highways for villages with a population under 5,000. Passed by the AUMA's membership, the request was later denied by the Minister of Transportation on Dec. 5, 2012 as the "provincial government has deemed golf carts to be unsafe for use on public highways."
Other information included in the report suggested insurance companies "will only insure golf carts in private parks or gated communities, not on public roads." The Alberta Government Small Vehicles guide lists a golf cart as a prohibited miniature vehicle, which cannot be registered and can only be operated on private property.
Coun. Joe Strojwas, who put forward the original motion on July 15, pressed for further investigation of the matter by administration to look into the possibility of a pilot project for the community.
"Thinking outside the box here a little bit, there are communities across Canada that are doing pilot projects to allow golf carts on town streets, designated areas of the community, proper signage, and certain conditions — can't have a number of kids in them, can't go faster than 20 kilometers an hour. So perhaps all of this information here shouldn't go to waste. Perhaps we should take a look at the ways and means of doing a pilot project, partnering with the provincial government and Alberta Transportation, thinking outside of the box, and doing something like this here. To see whether or not this is legal — this report was done in 2012, seven years ago — a lot has changed in the last seven years, being that the world has gone in a different direction, a lot of us are driving electric cars and everything else, so perhaps this would be a good time to re-look at this here and connect with Alberta Transportation. The minister here in town is the Red Tape Reduction minister (Taber-Warner MLA Grant Hunter), so perhaps we could get some input from him as to how to go about doing this. Rather than just let this die at this point, I would like to see if we could facilitate a pilot project for something like this, with certain conditions of course."
Federally, Transportation Canada lists golf carts as an LSV (low-speed vehicle) which does not have to adhere to the strict safety standards that a passenger car has to adhere to, and is therefor unsafe to be on the road with other vehicles.
"I think they are allowed on the pathways, and certain areas that the municipality designates, but sooner or later you are going to have to cross a road," said public works director Gary Scherer at council's Aug. 19 meeting. "And that's the issue, crossing roads."
Strojwas continued to endorse the possibility of conducting a pilot project with golf carts in the community, highlighting examples from other provincial jurisdictions.
"I fully understand that. That's why I would like to take it to other communities that are doing it. There's several out in B.C., and some down in Ontario that are doing and allowing this, and they started as a pilot project. After it had run for a year or two, the B.C. government had endorsed this, and they have to be registered through an insurance company in B.C. So perhaps Taber can become innovative and become a leader in this field by taking a look at a pilot project."
In light of the information presented in administration's report which points to the dubious legality of such a proposal, Coun. Garth Bekkering felt the idea should be dropped.
"I initially supported the investigation — a proposal by Councillor Strojwas — because I thought it bore some merit. But having read the report, which is very good, I'm of the opinion that we should leave this thought alone."
Strojwas would find an ally in Coun. Jack Brewin, who supported the idea of a pilot project for golf carts as a "new and innovative idea" for the community.
"I would like to follow up on Councillor Strojwas' idea and have a further look into this. We're looking for new and innovative ideas for the town, and it may attract people to our community to be able to drive their golf cart to the golf course. So I'd like to follow through with what Councillor Strojwas is saying."
Referencing the AUMA motion from 2012, Coun. Louie Tams suggested council should be marshaling their efforts at the political level for a legislative change rather than attempting to implement a plan that might encounter difficult legal obstacles.
"I think maybe it becomes more incumbent on council than it does on administration to do any more homework, that maybe we should take a look at making a resolution to the AUMA, and through our MLA, rather than administration spending any more time on it. They've done their work, they've given us an answer."
Coun. Mark Garner announced he could not support an idea that he believed would present serious safety risks for drivers and passengers of such vehicles.
"My personal opinion on this is I know there's places down in the States that may allow people to do that, maybe in Arizona or a senior's thing, but you have to remember that their motto down there is 'Land of the Free, Home of the Brave,' and I think that when you start seeing people scooting around on golf carts with kids or elderly people with no seatbelts, you're going to fling them out into the middle of an intersection? I can't support this. I'm not comfortable with this, because I think one of our responsibilities as council is to ensure the safety of our citizens, and I just don't feel it's safe."
With the right restrictions the plan could work, argued Brewin.
"I respect what you're saying there, Councillor Garner, but we could look at different ways of limiting golf carts to certain areas, not allowing kids under 14 without an adult. I think it's worth giving it a try. I don't like to see this die. So I think we should look into this before we just throw it out."
Strojwas pointed out the community already allows seniors and other individuals to operate electric vehicles such as carts and scooters on roadways without consequence.
"After some soul searching, I think this affects relatively few people," said Bekkering. "And when you're speaking about electric vehicles, I dare say there's very few electric golf carts in Taber, and when you make a new bylaw regarding the use of golf carts in designated areas — I'm not opposed to that so much — you heap a whole bunch more work on the bylaw people, and the police themselves, and you end up creating a mess. There's just not enough benefit."
Following discussion, council voted 5-2 to accept administration's report as information only. Councillors Brewin and Strojwas opposed the motion.