Dog park improvement gets the go ahead
Posted on August 28, 2019 by Taber Times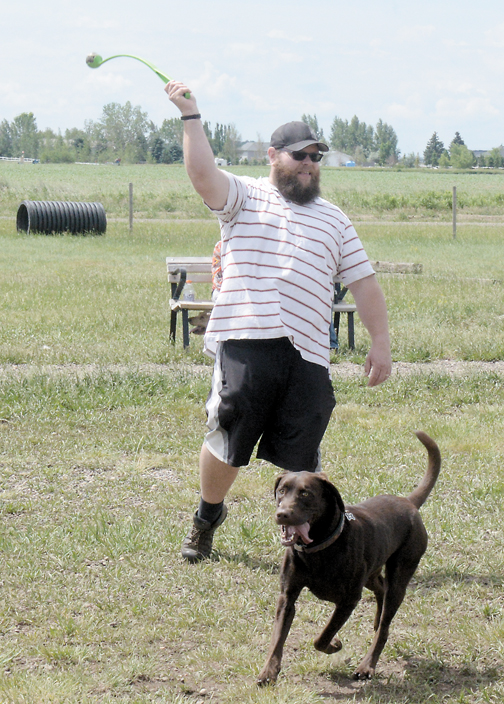 TIMES FILE PHOTO
By Trevor Busch
Taber Times
tbusch@tabertimes.com
After straddling a hurdle thrown up by town council, a proposed fencing project at the Taber Off-Leash Dog Park will be moving forward.
After a volunteer fundraising campaign spearheaded by Danelle Ulrick, work was proposed to replace the south section of fence at the park, including a fence that will divide the north side from the south.
Ulrick originally made the request at the July 15 council meeting, but the matter was tabled by council until Aug. 19 to allow for public consultation to be completed before making a decision. A survey was created and shared on social media with 120 individuals responding.
"The two projects proposed by Miss Ulrick of replacing fence on the south side of the dog park as well as a dividing fence were rated higher on the priority list from the public," said recreation director Dawn Phillips at the Aug. 19 council meeting.
Ulrick fundraised roughly $6,000 to complete upgrades, and the Kinsmen Club of Taber were willing to sign an agreement with the town to complete the work under the Kinsmen Club's liability insurance.
Coun. Carly Firth wasn't satisfied with Phillips' assessment, asking if the fencing project had been the top rated result in the survey.
"No. There was some others," said Phillips. "It's hard to evaluate clearly because it's rated one through 10 or 11 items…it was one of the higher items, and based on Danelle's input and her fundraising efforts, we felt that we should support what she presented to replace the fence."
Following discussion, council voted unanimously to direct administration to enter into an agreement with the Kinsmen Club of Taber to replace 600 feet of fence around the south section of the Taber Off-Leash Dog Park using funds solely from the fundraising efforts pursued by Danelle Ulrick.