Vipers saving some of their best swims for last at regionals
Posted on August 14, 2019 by Taber Times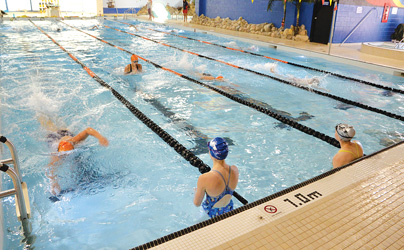 TIMES FILE PHOTO
By Greg Price
Taber Times
gprice@tabertimes.com
Several Taber Viper Swim Club members are peaking at just the right time, saving their best performances at regionals this past weekend in Lethbridge.
There were 19 swimmers who qualified for provincials in Edmonton, either as a regional/wildcard qualifier or alternate. Also, seven swimmers posted personal-best times at the meet.
"The personal bests were huge. It's exciting and fulfilling to see all the hard work the kids have put in is paying off. They were able to take time off in the morning as well as again in the afternoon for finals. It puts us in a really good spot going into provincials," said Kristen Irvine, head coach of the Viper Swim Club. "It's their attitude. A lot of kids are taking it a lot more seriously, getting a taste of what winning is like and so they put in a lot more focused hours in the pool rather than just fun. When you're more focused you are thinking more about technique rather than just rushing through it. Nineteen kids qualifying for provincials is exciting, it was a lot more than last year."
Jessica Anderson had a second-place time in 100-metre backstroke (1:15.82) and 100-metre fly (1:24.08). She also earned a third in 50-metre backstroke (36.30) in her category.
Morgan Bruce clocked in third for 100-metre IM (1:46.07).
Emily Carver had a third-place time in 400-metre freestyle (6:33.47).
Rebecca Carver finished in second in both her 200-metre freestyle (2:43.35) and 100-metre freestyle (1:15.20) events. She also earned third in 50-metre breaststroke (43.91).
Ainsley Duell earned bronze podium finishes in 50-metre breaststroke (42.03), and 100-metre breaststroke (1:33.12).
Bria Hall earned bronze in 25-metre breaststroke (24.65) and 50-metre breaststroke (56.43).
Also among the third-place finishes was Paige Hofer in her 200 IM race (3:41.24) and 100-metre fly (1:57.75).
Bennett Hughes earned second in his 50-metre backstroke event (55.25).
Adison Hutzul was third in her 12-and-under 400-metre freestyle (6:28.42).
Taylor Hutzul placed second in her 400-metre freestyle competition (6:19.16).
Head coach Kristen Irvine competed, taking second in 200-metre freestyle (2:36.07), 400-metre freestyle (5:54.73) and third in 50-metre breaststroke (44.22).
Evan Klemen enjoyed a pair of first-place finishes, which included 50-metre fly (34.81) and 100-metre freestyle (1:09.19). Klemen also earned silvers in 50-metre backstroke (45.41) and 50-metre freestyle (30.53).
Kayleigh Klemen's time of 38.68 seconds was good enough for second place in her 50-metre backstroke event.
Dion Velarde won second in both his 100-metre (1:14.29) and 50-metre (35.26) backstroke events. He also took third in 100-metre IM (1:14.56).
Don Velarde's category included top finishes in 25-metre backstroke (18.86) and 50-metre backstroke (41.83), and a second in 100-metre IM (1:31.74).
Darci Wright finished her 50-metre freestyle event in third (29.75).
The weekend saw 11 personal best times achieved, spread out among Ainsley Duell, Kristen Irvine, Don Velarde, Dion Velarde, Evan Klemen, Darci Wright and Bria Hall. That does not include the mountains of time kids have taken off of their personal bests in events throughout the season.
"There are some kids who have been able to take off 20 seconds in one day from the same race in an eight-length race. There's also taking off lots of time just from a race they did two weeks ago," said Irvine.
Irvine is keeping expectations simple for upcoming provincials in Edmonton — concentrate on one's self rather than those around you.
"I'm hoping to get a couple of podium finishes. There are some kids who have finished in top five for all of their swims and hoping to get away with a couple of medals. I want the kids to have fun, work hard and just get their best times," said Irvine. "That's the biggest thing, they are racing against themselves. The Vipers have really improved and come a long way. It's exciting and I hope we can build off of this going into provincials and into next year where I hope we can keep growing."