Setoguchi transitioning to life away from hockey
Posted on August 14, 2019 by Taber Times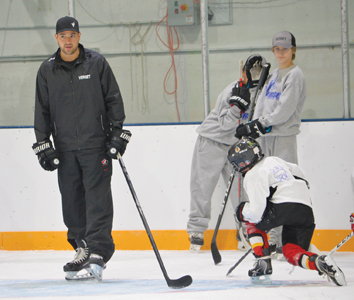 TIMES FILE PHOTO
By Cole Parkinson
Taber Times
cparkinson@tabertimes.com
Taberite Devin Setoguchi has hung up his skates but that doesn't mean he's moved away from the game.
On top of the annual Verset Skill Camp at the Taber Ice Arena, which is in its 10th year, he also moved behind the mic during the San Jose Sharks' playoff run last season.
"It was good. I helped out when they asked at the start of the playoffs and it was nice to be in the rink and help out. I had a lot of fun doing that," said Setoguchi in an interview with the Times during a break at this year's skills camp in Taber.
In his last pro season in 2017/2018 with Adler Mannheim in the Deutsche Eishockey Liga (German professional league), he contributed 24 points in 47 games.
From there he decided to retire from playing professionally but he wasn't ready to completely leave the game behind.
Transitioning from the ice to in front of the camera can be a challenge for some but Setoguchi says he was comfortable right from the get-go.
"We were taught how to talk to the media and it came naturally to speak. I was able to help out and it was fun to watch hockey," he explained. 
While the experience was a good one for Setoguchi, he isn't looking to make it a full-time gig moving forward.
Set on forging another path, he is heading back to San Jose with a different idea in mind.
"I'll be helping out but I'm in the middle of opening a fitness thing down there (San Jose) so I'll be transitioning into the fitness world. I'll help with the alumni as much as I can," he continued. 
Being back in the area and sticking around the team though will keep Setoguchi involved. 
With his eyes on his former team as the offseason approaches the end, he believes the Sharks aren't done making moves to their opening night roster.
"Their team isn't assembled yet but I expect them every year to do well. Unfortunately, a lot of injuries came at the wrong time and wrong place last year but they are always able to compete. The city they have there and they have players that want to play there. Hopefully, this is the year they can break out."